Gentrification, Stop-and-Frisk Collide in Crown Heights
Almost twice the stops on one side of the neighborhood than the other.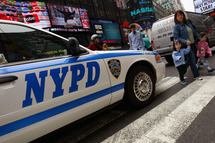 "We have a lot of burglaries, especially in areas where we have newer members of the community ... For you, the person who hasn't done anything, it's always going to be a tough situation." — NYPD Capt. Leighton Myre, addressing residents upset about stop-and-frisks at a community council meeting in gentrifying Crown Heights, where the stops happen with almost twice the frequency on the north side of Eastern Parkway than on the south.