Saudi Arabia Suffering From Shortage of People Who Slice Off the Heads of Other People With Swords
So now they'll just start shooting.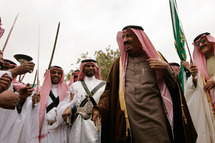 Officially sanctioned beheadings still stubbornly exist in just one country on Earth: Saudi Arabia, where it is considered the "proper Islamic method of execution under the Koran," according to the Times. But do you know how hard it is to find a good swordsman these days? Really hard, apparently! So now the government is saying, you know what, just shoot 'em.