E!'s Twitter Got Hacked Too
Justin Bieber is not gay, everyone.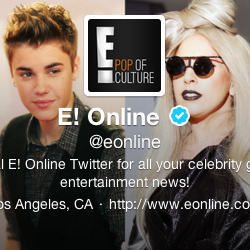 Unsurprisingly, it seems that Twitter was right when it told media companies to expect more hacking of their official accounts. And while we're all still waiting for those two-step passwords, E! News became the latest organization to fall victim to the Syrian Electronic Army hacker group, which recently took over the accounts belonging to the Associated Press and CBS. On Saturday, many of @eonline's 5.2 million followers were briefly led to believe that Justin Bieber had "exclusively" told the entertainment network that he is gay. However, the ruse was quickly spoiled by the hackers themselves, who added a tweet taking credit for the infiltration. The account was suspended for a little while, but it's now back up and running with an announcement confirming that it "was compromised and some incorrect information was sent out." It's a good thing that the markets were closed today — if a fake tweet about about explosions at the White House can make the Dow to drop by 100 points, who knows what news about the Biebs's sexuality would do?