'Hot' Heat Fan Who Flipped Off Noah Was Once Suspected of Killing Her Hedge-Funder Husband
She is Filomena "Phyllis" Tobias, widow of CNBC's Seth Tobias.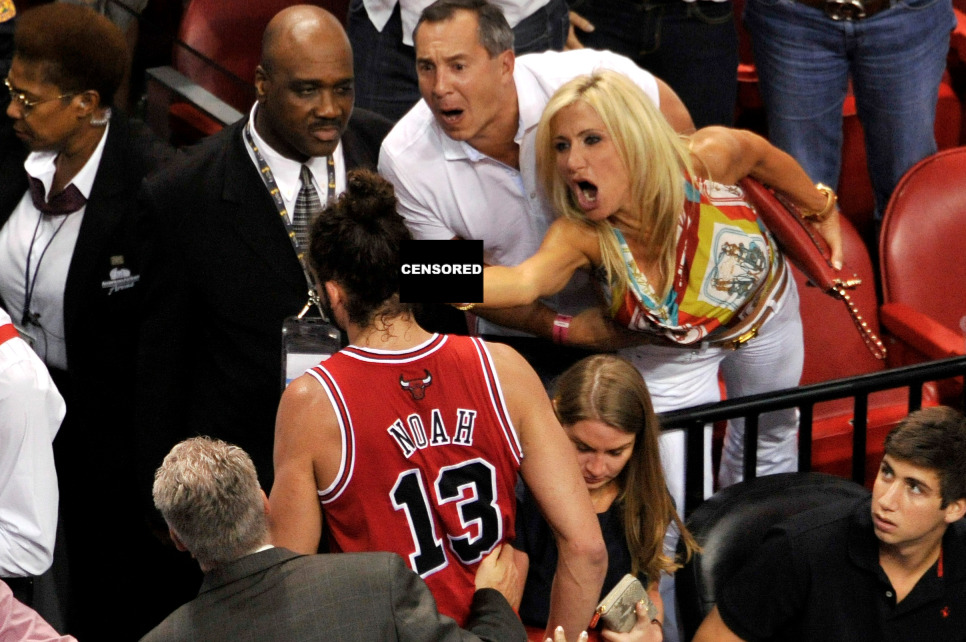 The real takeaway from last night's Miami Heat shellacking of the Chicago Bulls was this instant-classic image of a quintessentially South Florida woman putting her well-manicured middle finger (and huge ring) in Joakim Noah's face as he exited the court after being ejected. But it gets better.
The woman has since been identified as Filomena "Phyllis" Tobias, the widow (after one year of marriage) of hedge-fund millionaire and CNBC personality Seth Tobias, whose sudden death was covered in-depth by Stephen Rodrick for New York Magazine in 2008. Tobias's brothers, in a fight for his $25 million estate, accused Filomena of having "lured her husband to his death by drugging him and enticing him with sex with a male prostitute," but she was ultimately cleared. (There were also an Internet psychic and Ambien involved.)
"Seth and Phyllis's relationship was insane, even in the early days. Phyllis blasted Seth about his coke habit, but they both were heavy drinkers, especially of Champagne," Rodrick wrote. "Seth questioned Phyllis's emotional stability. They each accused one another of infidelity. It went back and forth like that."
"She's embarrassed, but she is being a good sport," Filomena's daughter told the Sun-Sentinel this morning of her mother's latest claim to infamy. "She was having fun just like any other fan. All she has to say is that people need to get a life."
"I have to say," she added, "she still looks really hot."