Thieves Make Second, Successful Attempt to Steal Queens FBI Agent's Car
Though the last guy was shot.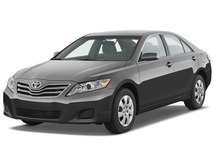 The FBI agent who got in trouble last summer when he shot a man trying to steal his car from in front of his Ozone Park home probably thought that at the very least, he'd sent a warning to anyone thinking of messing with his Toyota Camry. However, the shooting didn't deter whoever swiped the car, as well as an M-4 assault rifle and bulletproof vest in the trunk, on Wednesday night.