5 Insane Videos of the Tornado in Moore, Oklahoma
Terrifying.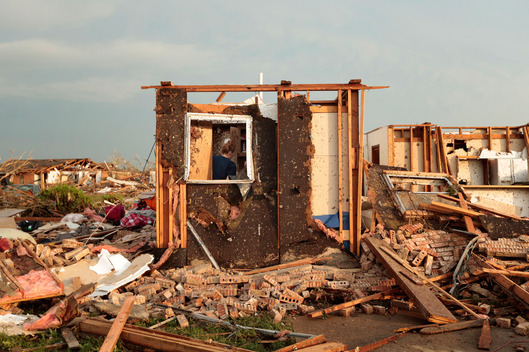 The destruction in Moore, Oklahoma, following Monday evening's category 4 tornado is almost unfathomable. Although initial reports from the medical examiner put the death toll at 91, the official count is now at 24, with dozens more injured and entire neighborhoods decimated. Winds likely approached 200 mph, and the two-mile-wide tornado tore through 22 miles in about 40 minutes. Watching the storm touch down and howl does not make it easier to comprehend the scale of the disaster, but the footage is still flooring.
"He was out that way for work today and just happened to be in the right place at the right time," a Reddit poster wrote of his father, who captured the best video of the tornado's formation to surface thus far. "He was worried it was going to come back at him and was searching for a way to scoot out [of] it's way once he was able to gauge how insanely close it was to him. He hung in there, though. Unbelievable."
"The tornado formed right over the city," a storm chaser told CBS. "I've never seen anything like it."
A time-lapse clip tracks its relentless movement:
Action News 5 - Memphis, Tennessee
"Oh my God" is almost all storm chasers David Demko and Heidi Farrar can say. "Listen to it. This is unbelievable."
"Listen to the roar," another weather tracker from Basehunters said. "This is not good. Dear God, please keep these people safe."