Two More Village Voice Survivors Quit to Prove a Point
But people are applying for their jobs!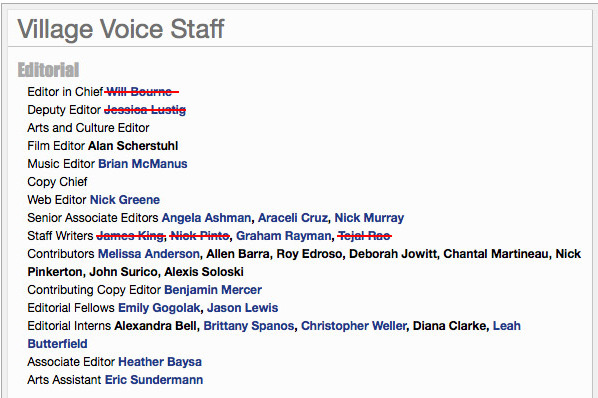 Earlier this month, the editor-in-chief and deputy editor of the Village Voice, who had been at the paper for less than a year combined, quit rather than fire a few of the paper's remaining editorial staff. A week later, those people were fired anyway, including Michael Musto. With the weekend to stew over the disheartening "restructuring," two more writers resigned today, leaving the alt-weekly's masthead a bit out of date. (See our updates in red.)
Calling it quits today were staff writers Nick Pinto — who wrote on Twitter, "I'll be resigning after my forthcoming feature. Love & thanks to colleagues past and present" — and Tejal Rao, a restaurant critic who won a 2013 James Beard Award and was flaunted by the company in a memo announcing the departures of Musto, Michael Feingold, and food contributor Robert Sietsema last week.
"We thank Rao and Pinto for their excellent work, and wish them the best," Village Media Group, which in the interest of disclosure once signed my checks, said in a statement this afternoon. "We'll now continue to focus on rebuilding the Voice to more closely align its superior content and editorial products with the long-term goals of Voice Media Group and the needs of our New York audience. Interim editor Pete Kotz is already working to fill open positions with fresh talent. Since the job openings were posted Friday at 4 p.m., more than 100 applications have been received."