Secret Service Has a Plan for Everything, Even Terror Cheetahs
You never know when a terror cheetah will strike.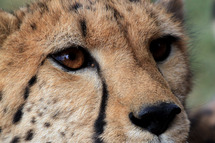 According to the Washington Post, security measures for the Obamas' upcoming Tanzanian safari included a "special counterassault team" armed with "sniper rifles with high-caliber rounds that could neutralize cheetahs, lions or other animals if they became a threat." However, the safari has since been canceled. Back to the drawing board, Terror Cheetahs.