State Senate Makes It Official With New MTA Chief
Unanimous vote for Thomas Prendergast.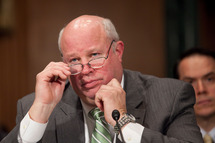 As New York's state Senate finishes out a raft of tasks before the legislative session ends on Friday, one vote was easy: Acting MTA director Thomas Prendergast will now officially take over Joe Lhota's job after a unanimous vote to confirm him. The guy certainly has enough experience, so that seems about right. Of course, now Gov. Andrew Cuomo is going to have to remember his name.