Doctors at Syracuse Hospital a Little Too Eager to Take Your Organs
Usually you're supposed to wait until the patient is dead.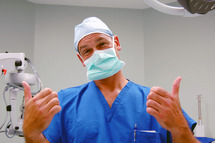 Syracuse 41-year-old Colleen Burns fell into a coma after overdosing on a mixture of Xanax, Benadryl, and a muscle relaxant in 2009. Nurses at St. Joseph's Hospital Health Center claimed they noticed signs of life, but doctors were pretty sure she was dead. So they wheeled her into the operating room and prepared to take her organs for donation. Burns opened her eyes just in time, and the doctors were like, "Oh, you're alive. Our bad."