Senator Tom Coburn Is a Terrible Friend
Just because he's pals with Obama doesn't mean he won't impeach him.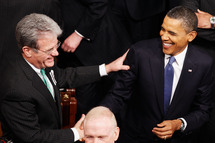 At a town hall meeting in Oklahoma on Wednesday, Senator Tom Coburn told the crowd that even though he's been pals with President Obama for years, he'd still like to see him impeached. Coburn said that while Obama is "a personal friend of mine," he thinks "there's some intended violation of the law in this administration," and "a ton of incompetence of people who are making decisions." He did say he's happy it's up to the House, not the Senate, to bring impeachment charges – but not because he's hesitant to cast a vote against his buddy. "I don't have the legal background to know if that rises to high crimes and misdemeanors," he explained, "But I think they're getting perilously close."