Time Makes Longtime Writer Its First Female Managing Editor
Nancy Gibbs replaces Richard Stengel.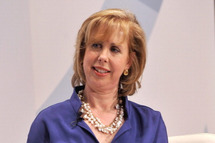 Time magazine did not take much, uh, time, in coming up with a replacement for Richard Stengel, who recently announced he was leaving the publication to go to work for the State Department. Nancy Gibbs, a 28-year veteran of the publication who has written a record 174 cover stories, has been working as deputy managing editor since 2011, the magazine reports. She called herself "the first managing editor to wear pumps – so far as we know."