Tsarnaev Involved in 2011 Triple Homicide, Says Dead Friend
At least some of the reports on Ibragim Todashev were right.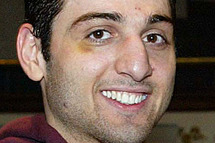 Ibragim Todashev told authorities that his friend Tamerlan Tsarnaev was involved in a triple murder in Waltham, Mass. in Sept. 2011, according to a motion filed by federal prosecutors in the case of alleged Boston Marathon bomber Dzhokhar Tsarnaev. Law enforcement sources said in May that Todashev was about to give a statement implicating Tsarnaev when he was killed by FBI agents, so this confirms that bit of the story. Everything else about the circumstances of Todashev's death remains unclear.