Sochi Security Wears Purple to Be Pleasant
So the place doesn't feel like a police state.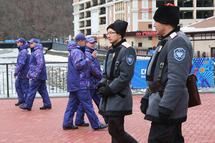 In case you were wondering who all those particularly fit, purple-suited gentlemen wandering around the Winter Olympic games in Sochi were, The Wall Street Journal explains they're members of the Russian security force, "drawn from the police, the military, and other agencies," and those goofy outfits are there to make them appear a bit more gentle. (Although they'll still show up and bust you the minute you deploy an illicit Wi-Fi or, presumably, a bomb.) Good look, or the best look?