Obamacare 'Definitely Saw the Galifianakis Bump'
According to Kathleen Sebelius.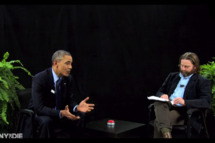 HHS Secretary Kathleen Sebelius said health-care enrollment "definitely saw the Galifianakis bump" after the president's appearance on "Between Two Ferns." "Certainly Zach reaches a certain audience." HealthCare.gov has also seen the procrastinator's bump today, ahead of the 11:59 p.m. deadline for enrollment, crashing the site again for old time's sake. Extensions aside, the administration still plans to hit its goal of 7 million sign-ups.