Makeout Bandit Vance McAllister Won't Run for Reelection
He wants to work on his relationship with his wife.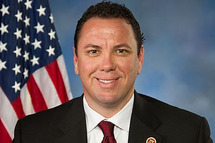 The conservative Louisiana Representative who became the subject of much teasing after a tape of him kissing a female staffer surfaced isn't going to try to stay in Congress much longer. McAllister told the News Star that he will finish the current term, which happens to be his first in office. After that, he'll be focusing on "repairing and strengthening" his relationship with his wife, Kelly, who has decided to stand by the man who brought a Duck Dynasty star to this year's State of the Union address.