Jesse Jackson Jr. Has Been Doing a Lot of Writing in Prison
He has already completed two books.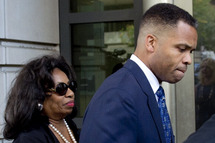 The former Illinois congressman, who is currently serving 30 months for spending campaign funds on elk heads and other things, recently informed AL.com that he has already completed two books, the compellingly titled The Last Campaign: A Memoir and The Tao of Jesus Christ. When the website asked Jackson for his thoughts on prison reform, he responded with "emails and a nine-page letter laying out a plan that calls for presidential pardons for all offenders who have served their time." (The latter was written by a fellow inmate.) It's good to keep busy.