Suspect Arrested in Fatal Brussels Jewish Museum Shooting
The 29-year-old French man reportedly admitted to the killings in a video.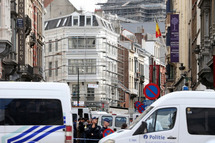 Mehdi Nemmouche was detained at a Marseille bus station on Friday after a random search turned up a Kalashnikov rifle, as well as another gun and ammunition similar to those used in last week's shooting at Brussels's Jewish Museum, which left three people dead. Prosecutors in Paris said that officials also found a video featuring what seems to be the voice of the 29-year-old French man — who recently returned to the country after fighting alongside Islamist militants in Syria — claiming responsibility for the killings.