Liberia, Sierra Leone Presidents to Skip Obama Summit Owing to Ebola Outbreak
Because, priorities.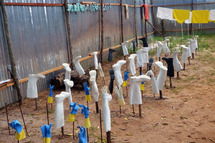 The leaders of Liberia and Sierra Leone won't be jetting off to the U.S.-African Leaders Summit alongside their delegations next week. Instead, the duo will be dealing with the still-expanding Ebola crisis, which has already claimed the lives of over 700 people across West Africa. Priorities? Check-plus. Meanwhile, Guinea president Alpha Condé — whose country has had more Ebola deaths than either of the other two — has not yet made a decision about attending. If there's ever a good reason to bail on an international summit, this just might be it.