Police Accidentally Killed a Cops Crew Member
And the suspect, in Omaha.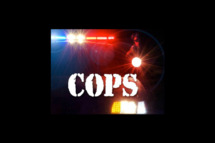 A shoot-out at an Omaha Wendy's last night ended with 38-year-old Cops cameraman Bryce Dion dead from friendly fire, while the armed robbery suspect, who had an airsoft pistol, was also killed. The long-running reality show "happens as it happens," said a producer. "That is our highlight and our low light." The 934-episode (and counting) series, which first aired in 1989, is currently in its 27th season. Dion is the first staffer to be killed on the job.