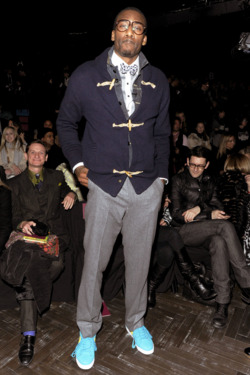 Did Amar'e Change His Mind On Playing Overseas?
Amar'e Stoudemire is a little less bored than a lot of other NBA players right now. Yesterday, he was in Los Angeles with designer Rachel Roy, where he was unveiling his new line of women's clothing. (When Dennis Rodman did this, everyone thought he was weird.) He even took part in a photo shoot. With the fashion media in tow, he was in an international mood. Which is why the Knicks are probably a little worried this morning.
For weeks, Stoudemire has made it clear that during the NBA lockout, he has no interest in or design on playing overseas, like the Nets' Deron Williams plans to and some superstars have flirted with. In a way, Stoudemire was toeing away from the union line by saying there was no chance he'd go play European ball; there is a school of thought that all the foreign-league talk by superstars is more a negotiating point, a "if you don't let us on the court, we'll go risk our limbs, and your league, elsewhere" than a legitimate possibility.
At this point, the Knicks have to hope that's all it is. Because yesterday, Stoudemire said he'd seriously consider playing overseas after all.
"All the clubs have called the office inquiring about me," Stoudemire said. "Teams from Israel, China, Turkey, Spain. A lot of countries have been calling."

"The chances would be high" of playing elsewhere in a lockout, Stoudemire said. "They'd definitely be high. I just want to make sure I'm healthy and totally 100 percent before I make that type of commitment. As of right now, we're not entertaining offers. I'm still trying to get (my back) right."
Now, a lot of this is just posing. Later in the story, Amar'e talks about organizing some fall ball with Carmelo Anthony and Landry Fields, and says his back still isn't 100 percent. (Nor is Anthony's elbow, for that matter.) The story is being sold as a big revelation, but if the NBA lockout extends to the point that Amar'e's only choice is playing overseas, the NBA is in even worse trouble than anyone would have thought.
Obviously, with Stoudemire's injury issues as well as that rather massive contract, Amar'e playing overseas would be a disaster for the Knicks. He's probably not going to do it. He was probably just yapping at a photo shoot. But if you're looking for the next Knicks nightmare scenario, that's it. This lockout's gonna be murder for the next few months, folks.