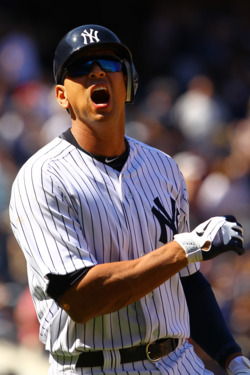 Some Reasons to Worry About the Yankees at the Quarter Pole
The Yankees lost two of three games to the Reds this past weekend, dropping their record to 21-20. Things could be worse, of course, but they're just a game out of last place, and they've lost five out of six following a mid-May stretch in which they won six of eight. This weekend was something of a microcosm of their season thus far: Andy Pettitte was brilliant on Friday night, tossing eight shutout innings in only his second big-league game since unretiring, but they followed that up with two straight losses. It's been like this all season: ups and downs, downs and ups. Encouraging signs (Derek Jeter has been hitting) are mixed in with discouraging ones (their bull pen injuries, for instance), and the result is a team that's barely over .500 at the quarter pole.
And remember when the ongoing Red Sox circus at least allowed Yankees fans to be grateful they didn't root for Bobby Valentine's club? The Yankees might be in just as much trouble as the Sox right now, at least according to ESPN.com's David Schoenfield. After noting some positives about Boston's season so far, he points to three things that Yankees fans might want to worry about: Mark Teixeira's struggles at the plate (and the drop in his walk rate in particular), A-Rod's unspectacular numbers (Schoenfield wonders if he's anything more than "a $28 million Chase Headley" right now), and a rotation that Schoenfield says isn't in much better shape than Boston's. We'd encourage Yankee fans to check out the whole Schoenfield article, though, fair warning, you might not like what you read.
To update something tweeted out by Michael Schur last week, there are currently seven teams in the American League with positive-run differentials, and five of them are in the American League East. Remember, this was expected to be a tough division even when it was assumed the Orioles (who currently enjoy a two-game lead atop the division) would spend the whole season in last place. Which is to say, a 21-20 record looks a lot worse in such a stacked division. But the Yankees will need to be a lot better than mediocre to contend for the AL East title. (For that matter, it'll take more than a barely-over-.500 record to get into the playoffs at all, even as a participant in the scary one-game Wild Card round.) It's at this point that we'll remind you that there are still 121 games left in the season. But especially considering some of the names that have landed on the DL so far this year — Mariano Rivera, Michael Pineda, David Robertson, Brett Gardner — this is hardly the start the Yankees were hoping for.
Photo: Al Bello/Getty Images