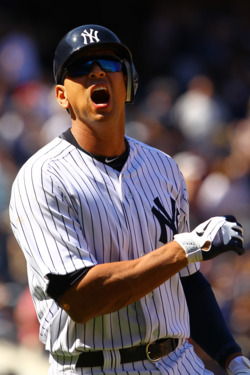 The Dodgers Are the Yankees to the Yankees
For decades, the Yankees have been the team who will take your tired and your weary and your poor and your overpaid veterans. This was central to the very identity of the Yankees, particularly in the Steinbrenner era, and is the reason you'd sometimes see Yankees farmhands (Fred McGriff, Willie McGee) zipped out of town before they ever had a chance to play here. If there was a guy who was expensive, you could count on the Yankees being involved. They were the team that spent so much that it seemed like they were in a different league all together. Even as the Yankees have been smarter about their finances in recent years, they're still the standard when it comes to spending. Until now.
The Yankees might be the only superpower in the American League, but they are no longer the maniac nutjob spenders of Major League Baseball: That would be the Dodgers, home of Vin Scully, Magic Johnson, and Don Mattingly. Their trade with the Red Sox last week — more accurately referred to as an acceptance of shockingly expensive, mostly broken goods — has shaken up the whole league, and now people are legitimately wondering: What contracts won't the Dodgers take?
From the Dodgers perspective, they no longer are owned by penny-squeezing Frank McCourt. Not only is the extremely wealthy Guggenheim group in charge, but the Dodgers have a potential record cable deal looming. In advance of that negotiation, they have shown money is no object in assembling a star-driven Hollywood blockbuster. A-Rod is nothing if not a huge name.
That's Joel Sherman of the Post, tossing out A-Rod after reporting that the Dodgers asked about CC Sabathia and Mark Teixeira last month. On one hand, as Sherman points out: a) A-Rod has a no trade cause; b) The Dodgers already have a third baseman; c) A-Rod might have the worst contract in baseball; d) Wait, is this sentence still going on? On the other hand ... the Dodgers are crazy!
All told: The Yankees are no longer the team whose finances are so overwhelming that they terrify and entrance the rest of Major League Baseball. This is a smart thing for the Yankees. But it still feels kind of sad. The Yankees dumping contracts on someone else? What universe is this?
Photo: Al Bello/Getty Images