And while this was all going on—while she was dating and then not dating football players—she was focused on building Jessica Simpson the Brand. "I never thought I'd be some fashion mogul!, "she says, laughing her big, open-mouthed laugh. The unlikeliness of it all is probably the exact reason why it works so well.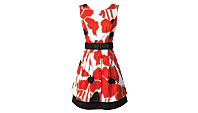 Celebrity lines are usually doomed to failure; they're the cautionary tale of the aughts. Sarah Jessica Parker's attempt to go mass with her Bitten line didn't work, and her struggle with Halston is just that—a struggle. Lindsay Lohan's foray into leggings has been less than impressive, and her attempt to consult for Ungaro became an industrywide joke. Success in celebrity fashion has been for the extremely rarefied microbrands: the Olsen sisters' the Row, for example, or Victoria Beckham's small collection of very small dresses. These are clothes every bit as expensive, well made, and sophisticated as what the members of the celebrity universe borrow and buy from the biggies, but it's not clear that anyone is really making much money off these lines, even if they sell well at places like Barneys Beverly Hills or Neiman Marcus.
But Jessica Simpson has never been about snob appeal. As her business manager, David Levin, explains, the original idea behind Simpson's fashion brands was this: "A girl could go to the shopping mall with her mother and she'd have a great new outfit and still have some money left for lunch at McDonald's. She can look like Jessica Simpson, smell like Jessica Simpson, and she can afford it."





Simpson's appeal is the way in which she interacts with the world entirely without guile, no matter how many public humiliations she's endured. She went onstage in 2009 in a pair of high-waisted jeans that, let's face it, looked terrible. The tabloids went crazy, but she didn't seem to mind. "I still thought I looked cute," she says. "I wouldn't have gone onstage if I didn't." She even turned the experience into an opportunity to bond with Oprah and, then, a reality program on VH1 about varying cultural ideas of beauty.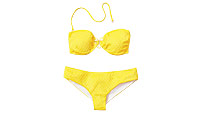 She's not out to reinvent the wheel. "I put everything in the line and then it just blows out," she says. "We try not to set trends, but you need your trending pieces in every delivery. But those go fast: What you really need is your basics for every type of person. When it comes to other celebrity brands, I think a lot of people do a great job, but it can't be all about them. Everybody doesn't want to just look like the celebrity, because they can't. They just want one element of that style."
In Simpson's case, the thing people wanted first was shoes: She is short, and she likes the kind in which the toe box rests on a several-inch platform. So six years ago she launched a shoe collaboration with Vince Camuto (the co-founder of Nine West). The footwear sold, so she kept adding on, and the result today is 22 different licenses, ranging from those original shoes to denim to coats to dresses for a party. "I can fill all different kinds of genres in fashion, music, TV, film, personality," she says. "I just relate to all of it. So we reach out to all ages. Like just the other day my nana asked for a pair of jeggings because we sent her a pair of boots that went up to her knee, and she was like, 'For this I think I need a pair of jeggings.' "
Jeggings for a grandma? Why not. Simpson's world is remarkably judgment-free.
It helps that she's particularly happy at the moment. After dating all those celebrities (including Dallas Cowboys quarterback Tony Romo), she got engaged last November to a former NFL tight end, Yale graduate, and vegan named Eric Johnson. They met through mutual friends—he came to a party at her house to be set up with a friend of hers, but then the two of them started talking and that was that. "Was it love at first sight?" asks Simpson. "No. I don't know if I believe in that. But it was definitely I could love this man. And maybe I already do."
His proposal came a week after Lachey's announcement that he would remarry. Again—tabloid candy. But Simpson doesn't seem to notice.
"It was a complete shock," she says, "a beautiful shock. It felt great for somebody to be on his knee, and I had to sit on that knee because I was so excited and overwhelmed I couldn't even stand. Knowing that I had his knee to sit on in that moment was very magical. The way I always wanted it to be. I think I have a lot of stuff to write now. Not that I'm using him as a muse, but it makes me feel very open to share."
Johnson is inspiring Simpson, in a New Age–y sort of way. Together they follow the "Artist's Way" practice of writing down their thoughts free form for an hour each morning. "I just let it flow," she says. "My fiancé taught me that. He'll get up in the morning and just write, so nothing blocks his emotional life. It doesn't even have to be in sentence form; he just gets everything out, and that way he can function without getting in the way of himself, without being aggressive or judgmental. We do that together. Sometimes he takes that hour just reading, we'll get out of bed and just read aloud to each other. He has so many books. Like, just books and books and books and books."