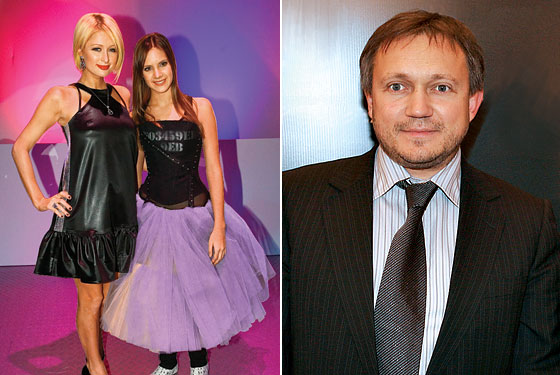 More than ever, she's right. A generation ago Russian teenagers were trading for jeans on the black market and listening to hopelessly out-of-date Billy Joel. But there's no lag, anymore, between the culture that European and American teenagers consume and what makes its way to Russia. Kira and her friends vacillate between punk and pop and R&B with the same immediacy as their counterparts in Orange County or Leeds. They study photos of Lindsay Lohan's leggings, Nicole Richie's hair. Kira's friends wear Abercrombie & Fitch, Topshop, and Hollister, bought during trips abroad or ordered on the Internet. Kira's on MySpace every day. Her favorite movies are Cruel Intentions and Mean Girls. She watches Pimp My Ride and likes Hilary Duff because "she does a lot for charity." "I wouldn't say my design is really Russian," says Kira, seemingly confused to be asked. "It's not Russian like red dresses and things like that." To Kira, to be Russian is to tap into a folk tradition from the past, to dress like a patriotic matryoshka doll. "It's just really girlie, sweet, and, like, it is a little bit of a princess world, but like a stylish princess."
"You start out thinking, Oh, she's Russian so it's going to be really different," says Higgins. "But then you realize that she's truly a modern teenager. The way teenagers work now, what they're influenced by, the trends they're following, are all over the globe."
Sergei, too, finds it pointless to assess the Russianness of the brand. "It's global," he says.
"The customers are girls who are similar to me," says Kira. "They're girlie, they're cute, they're sweet." She looks down. "They're sexy, too. But, well, they're sporty." Each collection is organized around a theme, but there is a consistency to the Kira Plastinina look. Although there was an equestrian show (riding hats), that was also quite heavy on pink tulle tutus.
The most recent collection featured the "more edgier side of Kira," she says, explaining that she'd been listening to Blink-182 a lot. But always, the clothes are undeniably, inevitably poppy. There are belly-baring T-shirts with cats' eyes on the chest. There are shiny motorcycle jackets, brightly colored leggings, and short, short skirts. There are tiny skintight T-shirts splashed with the loopy cursive logo (a heart dots the i in Kira). They are kind of like doll clothes, but doctored up to pre-hips human size.
And as for next season, Kira has already begun to think: "On the eighth of March is the women's holiday, and one girl wrote me a letter that was a really nice letter," she says. "There was this one phrase in it: 'I hope that the prettiest butterfly would sit on your hand.' That just inspired me so much. It was such a good present, to give a butterfly to someone, and then I thought, What if the theme for my next show would be butterflies?"
Kira Plastinina is wandering around her first New York shop less than 24 hours before its opening. "I said I wasn't going to come till it was open," she says. "But I couldn't wait. I was so excited." She looks around. Armies of sales assistants are steaming stubborn creases out of shiny satin minidresses. "Tomorrow, I'm going to get the pinkest ribbon and the pinkest scissors," she says.
On a flat-screen television are scenes from Kira's brief career: Seven girls are aggressively mugging and vamping down a runway. "They're the girls from Star Factory," she explains. Star Factory is a Russian television show similar in content and popularity to American Idol. Kira designed the costumes for the girls and was a regular guest on the show, which, she says, was great for the brand. The runway show ends, and the video cuts to Kira holding a microphone. Her shyness is gone, and she is flipping her hair, tucking her chin coyly, and interviewing Paris Hilton.
Kira starts moving around the store, touching all the clothes and smiling absently. The vice-president for merchandising for Kira in the U.S., Ron Barajas, a middle-aged guy in jeans, sneakers, and hair gelled into a modified faux-hawk, follows closely behind her. She holds up a short, tiered miniskirt. "I love this," she says. "But I can't wear it to school because of my dress code."
"It's very directional," says Rod.
"I like this vest," says Kira. "It looks like a rainbow."
"She expertly tailored the vest," says Rod. "It's masculine and feminine, so you're like, Oh my God, wow." He gestures to the seam. "I mean, where else are you going to see something like that?"
"See?" asks Kira. "A rainbow."
On opening day, Kira made the store's very first purchase, which she does every time she opens a store, for good luck, and then she climbed into the Escalade that had been squiring her around town all week and went to the airport: In Moscow, she had exams.