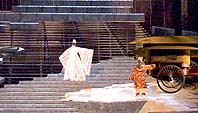 When Tan Dun moved to New York from China in 1985, the first Western opera he saw was the Met's Turandot, with Plácido Domingo. "If I could write something for this hero in this house, that's gonna be the best thing in my life," Tan, now 49, recalls telling his then-girlfriend (and now wife). "I mean, it was a joke: That's not gonna happen." This fall, it will: Tan is making his Met debut, conducting his own work—which stars Domingo, in the first role ever created for him at the Met. The First Emperor, an epic about the events leading to the construction of the Great Wall of China, casts him as the ruthless leader. With a reported budget of over $2 million, it will be the most expensive production in Met history. It's directed by Zhang Yimou, most famous forCrouching Tiger, Hidden Dragon, and Tan says the opera can be seen as a kind of prequel to Yimou's film Hero. "The best is to see The First Emperor, and at midnight see Hero," says Tan, joking that the Met should arrange a screening.
To see just how unlikely Dun's career is, realize that he grew up in rural China and didn't hear Western music until he was 20. Sonic images from his childhood (of stones, ceramics, water) remain crucial and beautiful elements in his palette—he once described the rhythms of people washing their clothes in the river as "like jazz." The score calls for the timpani to be flicked with hands and fingernails, for instance. "It becomes something new, never heard in the East or West," Dun says. "A kind of Met instrument."
—The First Emperor, By Tan Dun; Metropolitan Opera; opens December 21.