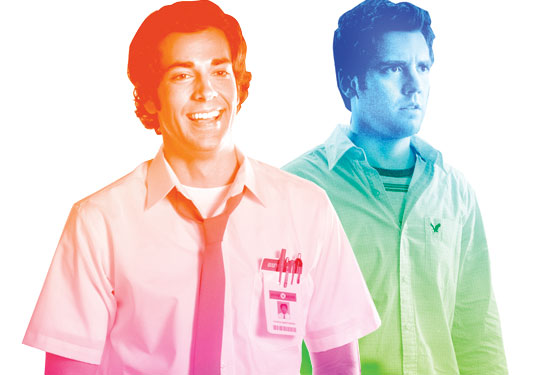 Chuck
NBC; premieres September 24 (8 p.m.).
Reaper
The CW; premieres September 25 (9 p.m.).
Our Nerd Hero
Chuck (Zachary Levi), a twentysomething IT guy who lives with his sister and toils as part of the computer "Nerd Herd" at a Best Buy–style megastore.
Sam (Bret Harrison), a 21-year-old college dropout (school made him "sleepy") who lives with his parents and works as a salesman at a Home Depot–style megastore.
His Supernatural Transformation
Chuck receives an e-mail from his old college roommate, who, it turns out, is now a rogue government agent. When Chuck opens the missive, it transmits all of his roomie's government secrets into his brain. Oh, computers!
Sam's parents sold his soul to the devil when he was born. Now he has to help the devil recapture escaped souls. Oh, Satan!
The Slacker Sidekick
Chuck's friend and co-worker Morgan Grimes. Think Boner from Growing Pains, but shorter.
Sam's best friend and co-worker, Bert "Sock" Wysocki. Think Kevin Smith, but younger. Which brings us to…
The Boldface Backer
Josh Schwartz is a producer and creator—so expect lots of his trademark geek-hipster style (e.g., close-ups of Chuck's Converse shoes).
Kevin Smith is a consulting producer, and he directed the pilot episode—so expect lots of his trademark stoner-boy banter (e.g., "My parents sold my soul to the devil." "You lucky bastard. Nothing cool like that ever happens to me, man").
Geek-Appeal Prognosis
High. The whole "video-game nerd turns secret agent" premise will seduce kids who dream of turning Halo skills into real-world cool. Plus Levi's a dead ringer for Adam Brody, a.k.a. Seth Cohen, The O.C.'s geek extraordinaire.
Questionable. The demon battles and dime-store F/X might draw a sci-fi crowd. But Sam's more slacker than loser. Nerds aren't cool, but they aren't underachievers, either.