Houseworld
San Damiano Mission, 85 N. 15 St., nr. Nassau Ave., Greenpoint; 929-344-2117; $50–$80; houseworld.nyc through 11/21.
Each of the 20-ish characters in this immersive theater performance represent a part of the human psyche, but some may seem more familiar than others: Among the "actors" are musician Jason Trachtenburg of the Trachtenburg Family Slideshow Players, Jesse Paris Smith, daughter of Patti, and somewhat-famous subway-busking outlaw Joe Crow Ryan. Theatergoers (in groups of 30) will create their own path throughout the four floors, but don't worry, it can't get too scary: It's set in an old, storied rectory. Or maybe that's the main reason to be afraid?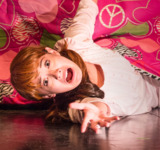 Nightmare: Horror Show
Clemente Soto Vélez, 107 Suffolk St., nr. Rivington St.; 212-260-4080; $25; nightmarenyc.com through 10/30.
This year, Nightmare has taken a hiatus from its usual walk-through haunted house to bring you a series of eight horror-filled plays. They'll include Eddie, exploring the inner workings of serial killer Ed Gein, and Me IRL, about a friendship between man and crow that goes all wrong. But just because masked actors won't reach out and grab you doesn't mean it won't be just as terrifying, if not more. Here, there's nowhere to run.
Haunted Hayride
Randalls Island, 1 Randalls Island Park; 302-751-5747; $30–$50, with private wagons available for $995; newyorkhauntedhayride.com through 10/31.
City kids get a taste of how they do it out West in this new attraction, which has already proved itself a hit with thrill-seekers in Los Angeles. Hop on a tractor-pulled wagon (if you're not allergic to hay) and wind your way through spooky stations built around the theme "Boogeyman." We don't know why you would, but don't fall asleep for a second. You-know-who might get you.
A Taste of Magic: The Séance
Highlight Studios, 36 E. 30th St., nr. Park Ave. S., second fl.; $60; www.atasteofmagicnyc.com 10/25-10/31
In this roundtable experience, you'll learn about the history of séances and maybe even communicate with the spirits yourself, partaking in a practice that became popular in the early-20th century. (Costume suggestion, perhaps?). Led by magician Jason Suran, participants are capped at 12 for each performance, so be prepared to get intimate, with both the living and the departed.
Blood Manor
163 Varick St., nr. Charlton St.; 212-290-2825; $30–$60; bloodmanor.com; through 11/7
This is where you go for a traditional haunted-house fix, one with high production values including a 3-D room, animatronics, UV light, and over-the-top gore. For maximum fright, visit on the "lights out" nights of November 6 and 7, or show up on your birthday and get free entry, with your guests getting $5 off admission. Hey, that's not so scary.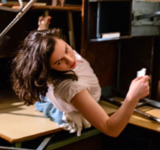 Then She Fell
The Kingsland Ward at St. Johns, 195 Maujer St., nr. Graham Ave., Williamsburg, Brooklyn; $95–$150; thenshefell.com; ongoing
This dreamy, immersive experience inspired by Lewis Carroll and his rumored obsession with Alice Liddell (his muse for Alice in Wonderland), just celebrated its third anniversary of chills, garnering accolades from the likes of Hugh Jackman and Joss Whedon. The setting (a former mental institution in East Williamsburg) and the secretive extras (drinkable "elixirs") only heighten the experience. Performances are capped at 15, so get tickets early.
The Ride Inspector's Nightmare
Sideshows by the Seashore; 1208 Surf Ave., at 12th St., Coney Island; 718-372-5159; coneyisland.com through 11/1; $15
Coney Island doesn't need any help being sinister, but help is what they get in this new interactive show, where Chief Ride Inspector Patty McKay falls asleep and relives the nightmares of his career. It's no accident (see what we did there?) that it's set in a theme park. The question is, after seeing it, do you dare ride again?
Gravesend Inn
Voorhees Theater; 186 Jay St., nr. Tillery St., Downtown Brooklyn; 718-260-5588; $5 students, $8 public; gravesendinn.org; 10/22–10/24, 10/29–10/31
The New York City College of Technology produces this high-tech house of horrors every year, which is especially terrifying if you're afraid of animatronics, like sensor-rigged pirate skeletons that pop out at you when you least expect it. Pro tip: If you get scared, stand very, very still.
Awakening in Ink
Morris-Jumel Mansion, 65 Jumel Terr., nr. 160th St.; 212-923-8008, morrisjumel.org; $40 ($80 for special Halloween performance), $30 for students; advance tickets required and available online or by phone (212-923-8008); 10/15-11/7
The Morris-Jumel Mansion presents its first commissioned play, by Vincent Carbone, which stars a young woman spending her first night alone as caretaker of Manhattan's oldest house. With a plot sourced from the site's archives, the production takes the audience through the house room by room, revealing scary specters skulking in the dark.