Blackout Haunted House
54 W. 39th St., nr. Sixth Ave.; through 10/31; $40
For a glimpse into the twisted tension of Blackout you need look no further than the list of rules, which instruct you to walk through alone, wear a protective mask, and do exactly as the actors (who definitely get invasive at times) command. You will get grabbed and you will have to run or crawl at various points, but no worries: There's a safety word if you think you'll break. And many have broken. Not for those afraid of the dark or prone to mental instability.
Scare Rating: From 5 to 1, where 5 is blood-curdling and 1 is a walk in a slightly startling park
4.5. Let's just say we still have bruises.
Blood Manor
163 Varick St., nr. Charlton St.; 212-290-2825; through 11/5; $25
A visual phantasmagoria on the second floor of an office building on Varick Street, Blood Manor goes heavy on the UV paint and the butcher-shop gore. The impressively high production value mean you'll encounter everything from animatronics to a 3-D room, with over 40 actors—some resembling the animatronics, for added disorientation—fawning over you at every corner. Also, a gift shop, should you want a shot glass to take home and fill with blood.
Scare Rating: 3.7. But don't worry, you can walk through with friends, and they make great shields.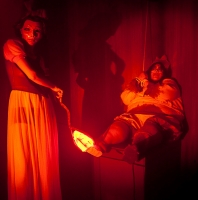 Nightmare: Fairy Tales
Clemente Soto Velez; 107 Suffolk St., nr. Rivington St.; 212-352-3101; through 11/5; $30
The most conceptual of the bunch (and a nod to the original perverse fairy tales of the Brothers Grimm), this is the one both for nostalgists and those who really hated their childhood. Prance through a spooky forest while popping in and out of scenarios with wolves, Pinocchio, Snow White, and Rumpelstiltskin (but don't tell him your name!) The second floor is full of scientific "experiments" exploring fear, where the visitors are the subjects. If you need reminding that you are indeed an adult, you can always grab a drink at the bar.
Scare Rating: 3.0. We won't say any more, but there is an opportunity for them to target your fears specifically.
Creep Show at the Freakshow
Coney Island USA; 1208 Surf Ave., at W. 12th St., Coney Island, Brooklyn; 718-372-5159; Through 10/31; $10
Part of Coney Island's charm is that it's sinister, so it's already ahead when it comes to scares. In this haunted house—set in a landmark building for above-average creakiness—you'll wander through the macabre nightmares of a "drug-addled" ride inspector, stumble upon zombies and decapitated bodies of tourists, and take part in the jury at the trial of the negligent inspector. For extra thrills, dare yourself to ride the Cyclone after.
Scare Rating: 2.8. This could (sort of) happen in real life!