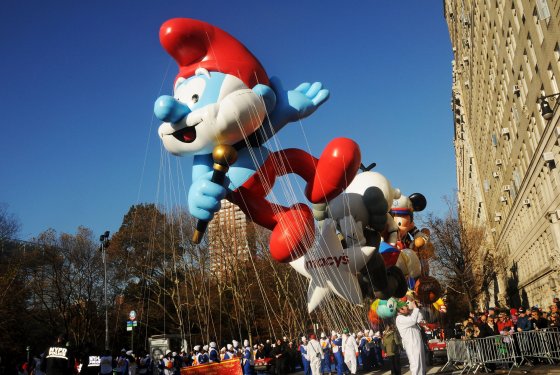 The Timing
The parade draws a crowd of more than 3.5 million people every year, so if you're hoping to snag a prime viewing spot, plan to claim it no later than 6:30 a.m. (the parade kicks off at 9 a.m.). The south side of 34th St. between Broadway and Seventh Ave. is highly sought-after territory every year, but there are plenty of better options. The long stretch of Sixth Ave. between Central Park South and 38th St. provides ample viewing room; you'll want to avoid any spot between 34th and 38th Streets, as the view is limited by broadcasting equipment.

The best bet is to situate yourself on Central Park West between Columbus Circle and 77th St., where the parade kicks off. In addition to the scenic backdrop, you can show up closer to 8 a.m. and still get a decent view. Plus, the nearer you are to the start of the parade, the less time you'll have to stand, since the parade's duration can last anywhere from 90 minutes to three hours, depending on your position. If you're set on 34th St., though, note that the bleachers are reserved for Macy's employees and folding chairs aren't permitted.
The Balloons
The lineup for the 87th annual parade features Sonic the Hedgehog, Hello Kitty, the Pillsbury Doughboy, Spider-Man, Papa Smurf, and many more. This year's parade will also feature the debut of Finn and Jake from Adventure Time; new designs for SpongeBob SquarePants and Snoopy & Woodstock; and, for the first time ever, a spinning dreidel to celebrate Hannukah's first night falling on Thanksgiving. Also new this year is a hot air balloon commemorating the 75th anniversary of the film version of The Wizard of Oz. For a less crowded look at the balloons, see them at the Wednesday night inflation: The day before Thanksgiving, from 3–10 p.m., head to 79th St. and Columbus Ave. to get a sneak peek.
The Entertainment
This year's parade will feature performances from Cirque du Soleil, the Rockettes, Kristin Chenoweth, Fall Out Boy, Sharon Jones and the Dap Kings, and Ariana Grande. Other notables making appearances include Joan Jett, Richard Simmons, Miss America 2014 Nina Davuluri, Joe Namath, Sandra Lee, and Jimmy Fallon and the Roots. The casts of Matilda, Motown, and The Sound of Music Live! will be on hand, too, as will the usual assortment of 1,600 cheerleaders, 11 marching bands, and 900 clowns.