Where does it all go? It's a question that puzzles all New Yorkers. You went to the ATM two days ago and suddenly you're there again, trying to remember how it went so fast (oh, yeah, that . . . $46 you blew on vodka-and-sodas). Our spending patterns, if we think about them, tend toward the irrational—we drop . . . $200 on jeans, then agonize over whether to take a cab or the subway home. And we wonder, How does everyone else do it? To see how money shapes our daily lives, we asked six New Yorkers of varying incomes to track every penny they spent in week; the figures provide a picture of urban life that is both heartening (even the richest among us drink deli coffee and sometimes take the subway) and somewhat less so (compare our junior professional's grilled-chicken takeout with our trader's . . . $520 dinner tab at Da Umberto). And having money doesn't mean spending it lavishly—our . . . $700,000-a-year investment banker spends . . . $3,000 a year on vacations. Somehow, we all find ways to afford something that meets our definition of luxury, like our grad student who recklessly splurged on, yes, Iron Maiden tickets. Rock on.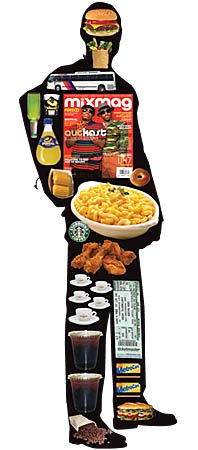 The Subsidized Grad Student: $20,000
Brian, a 26-year-old M.F.A. candidate in fiction, earns a modest living from teaching, assisting professors, and writing magazine articles. His parents pay his tuition as well as a $140-a-month gym membership at Equinox. The rent for his half of a West Village two-bedroom is $1,800 a month, most of it covered by his parents. Each month, Brian pays $125 for cable and Internet access,$59.31 on his Verizon cell-phone bill, and $96.67 for a shared desk at Paragraph, a writing space.

MONDAY
Iced coffee, Starbucks . . . $2.55
Salad bar and Orangina, Garden of Eden . . . $7.62
Espresso . . . $2.17
Dinner, Bombay Talkie . . . $34.10
Groceries at Gristedes (olive oil and mayonnaise) . . . $15.08
Total . . . $61.52

TUESDAY
Laundry, Laundromat on West 4th . . . $10.75
Iced coffee, Bonsignour Café . . . $2.25
Subway ride . . . $2
Bacon-turkey-and-Cheddar-melt sandwich and water, Così . . . $9.65
Subway ride . . . $2
Mixmag (British electronic-music magazine and CD), Casa Magazines . . . $9.75
Bottle of water . . . $1
Total . . . $37.40
WEDNESDAY
Migraine acupuncture treatment . . . $125
Fried chicken and corn, Dirty Bird to Go . . . $10.26
Espresso, Joe . . . $2.17
Bagel with tofu spread, Murray's Bagels . . . $3.82
Total . . . $141.25
THURSDAY
Groceries at deli on Eighth Avenue . . . $14.37
Total . . . $14.37
FRIDAY
Espresso, Starbucks . . . $1.75
Mac and cheese and chili . . . $8.75
Cheeseburger, beer, and bourbon, Corner Bistro . . . $12.25
Ticket to Iron Maiden concert, Continental Airlines Arena . . . $80
Round-trip bus ticket from Port Authority to the Meadowlands . . . $9
Beer . . . $7
Subway to Port Authority and home after concert . . . $4
Total . . . $122.75
SATURDAY
Grilled-veggie sandwich, side salad, and two espressos, Doma . . . $12.59
Two tickets to Shortbus, Clearview Chelsea . . . $23
One glass of red wine, two coffees, cinnamon French toast with maple butter, Tour . . . $26.34
Total . . . $61.93
SUNDAY
Pound of coffee beans, Starbucks on Greenwich Avenue and Bank Street . . . $13.45
Total $13.45

---
TOTAL WEEKLY SPENDING:
$452.67