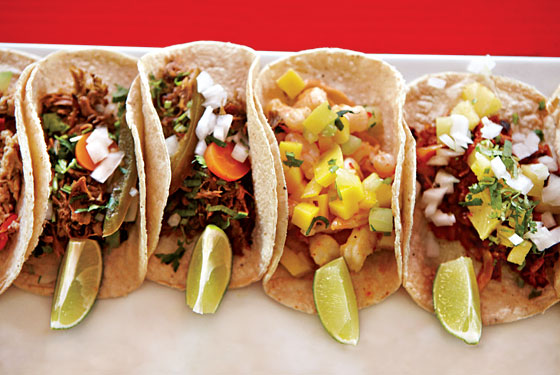 Fu Run
40-09 Prince St., Flushing; 718-321-1363
This is Chinese cooking from the northeast hinterlands of Dongbei, formerly known as Manchuria, and if you were reared on sesame noodles and kung-pao chicken, it might as well be from another planet. The spectacular "Muslim lamb chop" is like nothing you've ever seen—a braised, battered, and deep-fried slab of chewy, fatty, muttony ribs encrusted with a spice rack's worth of cumin seeds, dried chiles, and black and white sesame seeds: the everything bagel of meats. The cabbage-y "mixed vegetable with green bean sheet jelly" bathed in chile oil is coleslaw reimagined by a pyromaniac. There's sauerkraut in the pork dumplings and what seems like spaetzle in the "homemade-style blotch soup." (Or are they blotches?) As the meal progresses, the number of culinary influences only increases: Russian, Korean … is that what they eat in Inner Mongolia? And just when you think you've seen it all, out comes the combination sweet ¬potato-taro-and-apple plate—a leaning tower of cubed fruit and tuber spackled together by molten caramel. You extract the cubes, dip them into a bowl of water to cool and crystallize, then you swear the closest relation to this absurdly delicious Seussian concoction has got to be the French croquembouche.
Hunan Kitchen of Grand Sichuan
42-47 Main St., Flushing; 718-888-0553
If the name of this Chinese yearling is geographically disorienting, so's the menu. Only denizens of the regions in question—and maybe Chinese-food brainiac Fuchsia Dunlop—could discern which dishes are Hunanese and which are Sichuan (or, in the case of the orange beef and the broccoli with chicken, in the "Chinese dishes" section, something else entirely). Many of the choices, regardless, will be familiar to habitués of the very loosely affiliated (but independently owned) pack of Chinese restaurants called Grand Sichuan, which stretches from the Upper West Side to Bay Ridge, and now, with this outpost, to Flushing. (The Grand Sichuan addict will recognize not only signatures like spicy double-cooked pork, but some front-of-the-house faces, too.) To the long and venerable history of culinary trash-talking between the provinces, about whose food is spicier and more delicious, we haven't much to add. We can say unequivocally, though, that the chile-dappled Hunan-style pickled cabbage is as piquant and crunchy as the Hunan eggplant is smooth and deliquescent; that not only is the skin of the sautéed crispy duck crispy, but the meat tender and chewy and full of flavor; and that the white-pepper smoked beef tastes like a soft, succulent jerky, blanketed with the wispy skins of white and red chiles—a trademark of the Hunan kitchen, Grand Sichuan's and otherwise.
Tortilleria Nixtamal
104-05 47th Ave., Corona; 718-699-2434
Fernando Ruiz had a dream, and a corny one at that: to make tortillas completely from scratch, from Illinois corn kernel to finished taco-ready product. Sounds simple, but it's rarely done nowadays, when commercial producers both here and in Mexico use industrially produced corn-flour mix. Biting into one for the first time is a revelation—what one imagines it might be like to chomp a loaf of Sullivan St Bakery Pugliese after subsisting on a lifelong diet of Wonder Bread. But at this homey Corona microfactory, house-ground masa and fragrant, supple corn tortillas have become much more than the basis of a cottage industry supplying some of the city's best taquerías; they're the backbone of a terrific menu that draws locals and culinary pilgrims alike. One recent Sunday, a toddler trio of Mexicana bridesmaids in crinoline and lace tucked into a post-wedding plate of carnitas, a $15-a-pound pile of pork morsels, served with a stack of warm tortillas. Minimally garnished tacos and earthy tamales make superb snacks, but the sleeper of the ever-evolving menu just might be the $11 Milanesa, a succulent beef cutlet judiciously coated with moist, seasoned bread crumbs and garnished with onions, peppers, and crema-drizzled plantains.
Golden Palace
140-09 Cherry Ave., Flushing; 718-886-4383
Like Fu Run across town, this off-the-beaten-path restaurant traffics in boldly flavored Dongbei cooking at its gut-busting, lip-smacking, mind-blowing best. The crispy flounder with chili pepper is battered and fried and thoroughly festooned in the Dongbei everything-bagel style: cumin seeds, chiles, black and white sesame seeds, and whatnot—in short, the works. The signature sauteed potato, green pepper, and eggplant is one of those ho-hum-sounding side dishes you have your doubts about ordering but will never neglect on subsequent visits. If you like dumplings, the leek-and-pork-stuffed ones are rich and satisfying, and at $6.99 for a pile of twenty, almost as cheap as what you'd pay per dumpling on Eldridge Street. Best of all are the pork and Chinese cabbage cakes, stuffed and griddled rounds of dough (a.k.a. bings) with a terrific chewy-flaky texture—like a cross between an Indian paratha and a Hot Pocket. They come four to an order for $4.99, and one imagines that two alone would make an excellent snack for a Dongbei lumberjack.