The Singles Collection
Blackout; 916 Manhattan Ave., nr. Greenpoint Ave., Greenpoint, Brooklyn (718-383-0254)
This slick hipster haven hosts a low-key mixer where the main draw is the drink specials. Throw back shots for $4 apiece, or toast with cocktails like the Coco & Carl ($6; vodka and crème de cacao) and the Velvet Williams ($8; Champagne with citrus reduction syrup).
Sunday Bloody Sunday
The Creek; 10-93 Jackson Ave., nr. 49th Ave., Long Island City (718-706-8783)
Storytelling, stand-up, and improv collide in "Sunday Bloody Sunday: An Anti–Valentine's Day Comedy Party." At 6 p.m., hear tales of dates gone wrong in "Screwed: Stories of Relationships That Never Had a Chance." Stand-up comedians take romance down a notch at 7 p.m., and at 8 sketch-comedy group Froduce tackles relationship-based improv in "We're All Really Upset We Are Alone on Valentine's Day." Plus, dangerously cheap drink specials: Young's Chocolate Stouts are $4, Godiva chocolate martinis are $8, and Cocksucking Cowboy shots (Bailey's and butterscotch Schnapps) are $2. All are recommended before taking the mike downstairs for "heartbreak karaoke"—a recipe for belted-out ballads if there ever was one.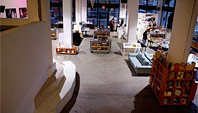 It's Not You, It's Me: The Poetry of Breakup
PowerHouse Arena; 37 Main St., nr. Water St., Dumbo, Brooklyn (212-604-9074)
Contributors Bob Hicok, Donna Masini, and Mark Halliday delve into the poetry of disillusion with readings from It's Not You, It's Me: The Poetry of Breakup, edited by self-professed breakup expert (and award-winning poet) Jerry Williams. Bored to Death creator Jonathan Ames moderates to lighten the mood.
"Heaven Knows I'm Miserable Now" Speed-Dating
Black Rabbit; 91 Greenpoint Ave., at Franklin St., Greenpoint, Brooklyn (718-349-1595)
Nothing like classic Brit rock to warm your cold, lonely heart. On Thursday, head over to the darkly hopeful "Heaven Knows I'm Miserable Now" speed-dating event, set to the music of the Smiths and hosted by Brooklyn comedian Dave Hill. Then on Sunday, comic Bobby Tisdale narrates Anti-Valentine's Bingo Night. The prizes, we're promised, are "appropriately stupid and unromantic."