Syd Straw's Heartwreck Show
City Winery; 155 Varick St., at Vandam St. (212-608-0555)
Rock singer-songwriter Syd Straw is touted as the queen of anti—Valentine's Day celebrations, known for her annual Heartwreck Show. The crooner's Valentine's Day grudge goes way back: According to the Winery's website, the title track off Straw's 2008 album, Pink Velour, is in part about "being kidnapped by my mother on Valentine's Day in 1969, and about not seeing my dad for almost seven years." Sip on specials, like sparkling rosé from Lucien Albrecht for $9 per glass, $36 per bottle (regularly $11 and $44).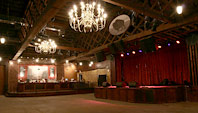 The Rejection Show's Heartbreak Haven
The Bell House; 149 7th St., nr. Second Ave., Gowanus, Brooklyn (718-643-6510)
Live comedy series the Rejection Show presents "Heartbreak Haven." (Tagline: "Find someone to French!") The night includes booze-fueled performances on the subject of love, heartbreak, and breakups. Heed cautionary tales from fifteen comedians, including Rejection Show founder Jon Friedman, author of Rejected: Tales of the Failed, Dumped, and Canceled and writer for LateNightwithJimmyFallon.com.
Black Hearts Party
Village Pourhouse; 982 Amsterdam Ave., nr. 108th St. (212-979-2337)
The bar for boozy undergrads (and those of us who wish we still were) turns blind hookups into a drinking game. At Saturday's singles-only Black Hearts Party, every girl gets a rose with a numbered heart on it and every guy gets a number: Find your match, get a free shot. On Sunday, work out some post-breakup rage at the Anti–Valentine's Day Ex-orcism Party. Bring a photo of an ex to pin on the dartboard and receive a free Bud Light draft; hit the bull's-eye and win a free hour of open bar.
Minq Vaadka and the Disgruntled Lovers
Joe's Pub; 425 Lafayette St., nr. Astor Pl. (212-539-8777)
Punk-cabaret act Minq Vaadka celebrates the release of his debut CD, The Plastic Masquerade, with a show that promises over-the-top makeup and sexual subtext. (The Public describes his vocals as a cross between Jack White, David Bowie, and Tom Waits.) Get there early to see the openers, Disgruntled Lovers, a pair of bandmates and exes who play lo-fi indie tunes on piano and guitar.