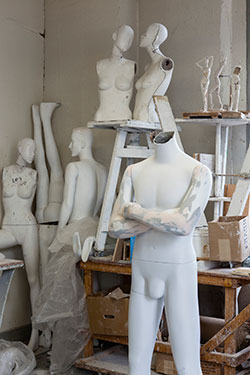 Sculpt a Mannequin
Watch Ralph Pucci mannequin sculptor Michael Evert create a bust of Architectural Digest editor-in-chief Margaret Russell as part of the "Ralph Pucci: The Art of the Mannequin" exhibition at the Museum of Arts and Design (2 Columbus Cir., nr. 58th St.; 212-299-7777) on August 27 at 6 p.m. Using clay and a live model, Evert will demonstrate traditional sculpting methods and create a new bust on-site from start to finish. The program is free and admission is pay-what-you-wish.

Images of West Africa
On Monday, August 31, the Metropolitan Museum of Art (1000 Fifth Ave., at 82nd St.; 212-879-5500) opens "In and Out of the Studio: Photographic Portraits From West Africa," an exhibition that follows the history of portrait photography in West Africa. Featuring images by amateur and professional photographers from Senegal, Cameroon, Mali, Gabon, and other West African countries," taken between the 1870s and 1970s, this exhibition includes close to 80 photographs — many of which are on view for the first time — presented next to postcards and negatives. Recommended admission is $25 for adults, $17 for seniors, and $12 for students; admission for members and children under 12 is free.
A Morbid Flea Market
This is not your typical Brooklyn flea. Shop cat skulls, taxidermy squirrels, jars of preserved frogs, human and animal bones, and other oddities at the last summer flea market from the Morbid Anatomy Museum at the Bell House (149 7th St., nr. Second Ave., Gowanus; 718-643-6510) on Sunday, August 31, from noon to 6 p.m. The 15 vendor tables include Ryan Matthew Cohn, of Science Channel's Oddities, with osteology and antiques, and artist Daisy Tainton with insect shadowboxes. Flea-market admission is $1, or $5 if you want to visit the museum as well. Go early — entry lines have stretched around the block in the past.