After several weeks spent in the over–air-conditioned sprawling homes of The Real Housewives of New Jersey, it felt good to be back in tiny, cramped New York again, listening our old loudmouthed friends, Kelly, Ramona, Alex, LuAnn and Jill bickering like they'd never stopped. In this, the honest-to-goodness, that's all folks, final episode of the second season of The Real Housewives of New York City, "The Lost Footage," the housewives seemed, compared to their counterparts in the Garden State, more sophisticated, self-aware, and intelligent than they ever have. For the first time, we didn't mind about their incessant self-promotion, because at least it showed they had some savvy. And we truly appreciated their efforts to use big words. Like in this conversation, which occurred after the reunion host (whom we like to call Beelzebub) asked Jill why she had taunted Ramona by bringing Simon as her partner to that fateful tennis match with her and Mario.
Jill: I didn't want to play. Let's go back to the "Page Six" party. I didn't want to play. And Mario said, "I'm going to pick up my toys and leave, then." And I was like, "Fine, pick up your toys." And then they started kissing Alex and Simon's ass, and Bobby was very upset. He doesn't show it, but he was …
Ramona: You're not answering the question.
Jill: [Glares] Annnnyway.
Ramona: You're not —
Jill: Anyway, calm down!
Ramona Why did you bring Simon?
Jill: CALM DOWN!
Ramona You're —
Jill: Shut up! Let me —
Ramona You're interrupting me.
Jill: I did not.
Ramona You interrupted me all the time, before.
Jill: [To Bethenny and LuAnn, who are sitting on the golden couch beside her, looking like startled Kewpie dolls] Did I interrupt her? Did I let her speak all those questions?
Beelzebub [Interrupting] She's saying you interrupt her figuratively.
Did you see that? Beelzebub picked up the Real Housewives' strange language problem like a case of the swine flu! It was good to come back for a night, but actually, now that we think about it, we're glad this season is over; otherwise we'd all start malapropizationing. But before we say good-bye, let's declare a winner to last night's episode.
Jill: We'd wondered what happened to the story line in season one in which Jill awkwardly attempts to force daughter Ally to bond with her stepfather, Bobby Zarin. After watching this leftover footage of the new family bowling, we understand why they dropped it. But in the end our eyelids were so droopy we couldn't distinguish between Bobby's head and the bowling balls. Less clear was why the producers cut Jill's meeting with the head of an African orphanage, in which she asks him: "Do you have horses in Africa? Do you have television?" This made us scream aloud, but it lost Jill the episode. Really, Jill. Try and learn a little something about the continent where zebra fabric comes from.
Ramona : Ramona's eyes were wide — even more than usual — as she described the bounty she and her dog, Coco, observed at the Paws of Style fashion show. "There was a lot of hoopla," she said. "Richard Belzer was there! And Nikki Blonsky from Hairspray." When she and Coco sashayed down the runway in matching sequined Rebecca Taylor dresses and Ramona capped it off with her signature wiggle dance, we died. But then she reminded us we hate her by randomly shit-talking Jill's dog, and lost the episode.
LuAnn: The countess appeared briefly, called a napkin a serviette, and lost the episode.
Kelly: Kelly, as it turns out, has a hoarding problem. "I have so many clothes," she announces. "Because I am a pack rat. I have clothes people gave me when I was 16." So she decides to give some away. Because, as she says, "In these times, when banks are closing and people are freaking out and nobody has any money and people are putting money underneath their mattresses, maybe I can lean down a little bit and donate my clothes to people who really need it." Alms! Isn't that nice. Also, she might smother in her own home. So she invites a stylist called Issa over to go through her closet while she sits there and discusses her decision with the camera. "There are two kinds of people in New York," she says. "Talkers, and doers. So instead of being someone who's like, oh yeah, I'm sooo charitable … I just want to do something nice." Right? Like she can help it if people want to watch her do it on television. Needless to say, Kelly loses the episode.
Bethenny: One of the things we like about Bethenny is that she always seems up for, well, stuff. Like when she takes time out to help Ally, who at 15 has only ridden a bike "around three times," wobble through Central Park. She's game when her second date with sexy Frawnch Phillipe turns into an impromptu photo shoot (and manages to not spill red wine all over his all-white sofa, which is an accomplishment). And when she travels to Fire Island, "or, as I call it, Gay Island," she announces, "I just want to dance until my tits fall off." She does do a lot of dancing. But sadly, she does not fulfill this last promise (tits stay on) and loses the episode.
Alex
: Hearing Alex talk about how "fearless" she and Simon are about fashion is like wearing vinyl pants without underwear or a bikini wax in 100 degree weather. It just chafes terribly. They're not facing down any personal demons by wearing wacky clothes, they're indulging themselves in their need for attention. We weren't so into their quippy gay friends, either, who remarked, in front of their adopted child: "One kid is an accessory, two is a minivan." Parenting! But we do have to commend Alex for the way she handled Beezlebub's broaching of the Is Simon Gay question: "If Simon were gay, he's be out and proud and marching, and he would have a rainbow flag tattooed on his forehead," she said, with absolute conviction, and from everything we've learned about Simon, we have to concur. If that man were gay, he would be fearless about it. For this, Alex McCord wins the
episode.

Auxiliary Winners
New York Magazine: For being prominently featured as Gloria reads the now-infamous article in which Simon refers to Jill being from Long Island, "and it shows."
Mama Gloria: For making a good point about the Van Kempens. "What is this, McCord–Van Kempen? They're so close together that they practically walked together as one unit, yet she retains her name?"
Brad: For overshadowing everyone else in the "insane outfits of the season" segment. Does that man own a non-patterned suit?
The Editors Who Had the Brilliant Idea to Put All of Simon's Gayest Moments Into a Fucking Montage: Which you can view here. Bravo, indeed.
The Real Housewives of New York City Interrupt Each Other 'Figuratively'
THE FEED
Sign of the times, 30 days into the longest government shutdown in American history
GoFundMe starts its own effort to assist federal workers hit by the shutdown. Employees of world's most powerful nation "are being forced to work without pay and line up at diaper or food banks," said GoFundMe CEO Rob Solomon. "It makes no sense."
https://t.co/aQDYv0EmwZ
—
@HuffPost
indigenous peoples' march
What It Felt Like to Stare Down the MAGA Teens
Buzzfeed News seems exceedingly confident about their Trump-Cohen bombshell, despite the Mueller pushback
Reporter Anthony Cormier and editor-in-chief Ben Smith appeared on Sunday's Reliable Sources:
"We're being told to stand our ground. Our reporting is going to be borne out to be accurate, and we're 100% behind it," [Cormier explained to host Brian Stelter]. … [The Pulitzer Prize-winning journalist], who wouldn't reveal his sources when asked, said the story had been in the works for months and went through a "rigorous" vetting process. The story was reviewed by at least three editors, Smith said. …
Smith said BuzzFeed is "eager" to understand which parts of the report Mueller's office is challenging as inaccurate. He said BuzzFeed reporter Jason Leopold, who coauthored the story, submitted a Freedom of Information Act request for details on how the statement from Mueller's office was constructed. …
Journalist Carl Bernstein, a CNN political analyst, told Stelter on Sunday that he thought it was "going to take time before we fully understand what the exact truth is here."
At one point, Stelter asked the pair, "What if your sources are wrong?" Cormier replied, "They're not."
An intentionally misrepresented solution to an intentionally misrepresented crisis
A Republican senator who encouraged President Donald Trump to pursue a compromise with congressional Democrats to end the partial government shutdown described the White House's offer this weekend as "a straw man proposal" that is not intended to become law.
"What I encouraged the White House to do and multiple others encouraged the White House to do is put out a proposal," Sen. James Lankford (R-Okla.) said Sunday during an interview with host Martha Raddatz on ABC's "This Week."
"They've listened to a lot of Democrat and Republican members for the last month. They've heard all the demands, they know all the background on it," said Lankford, a member of the Senate's Homeland Security and Governmental Affairs Committee.
"Put out a straw man proposal. Get something out there the president can say, 'I can support this' — and has elements from both sides. Put it on the table, then open it up for debate."
russia investigation
Giuliani: Trump's Moscow Tower Plan Was Active Until 2016 Election
Mueller's favorite attorney is at it again
Rudy Giuliani was "defending" the president on the Sunday morning shows again this week, and it's gone about as well as you'd expect.
On CNN"s State of the Union, Giuliani said, "As far as I know, President Trump did not have discussions with [Michael Cohen about his Congressional testimony] — Certainly no discussions with him in which he told him or counseled him to lie." But he also acknowledged, "I don't know if it happened or it didn't happen… I have no knowledge if he spoke to him," before adding, "And so what if he talked to him about it?"
"If he had any discussions with him, they'd be about the version of the events that Michael Cohen gave them which they all believe was true," Giuliani also explained, and angrily accused host Jake Tapper of having "hysteria" after Tapper said he wanted to learn the truth about the Cohen-Trump interactions. "You should all be careful," Giuliani said.
On Meet the Press, Giuliani was "100 percent certain" that Trump did not ask Cohen to lie.
"I can tell you his counsel to Michael Cohen throughout that entire period was, 'Tell the truth,' he added. "We thought he was telling the truth. I still believe he may have been telling the truth when he testified before Congress,"
Giuliani also admitted on MTP that Trump's discussions about building a Trump Tower in Moscow went on "throughout 2016", and possibly even into November — even though Trump said then and later that he had no business with Russia.
"It's our understanding that [the Trump Tower Moscow talks] went on throughout 2016, not a lot of them, but there were conversations, can't be sure of the exact date. … Probably up to — could be up to as far as October, November."
It's morning in America, and the president has already
1) Threatened to hunt down and deport DACA recipients if Democrats don't accept his offer to temporarily cancel his cancellation of DACA, while also assuring the (pissed-off) far right that the deal doesn't include amnesty, while also suggesting full amnesty would be an option sometime later, if he gets what he wants.
2) Used the severe winter weather striking much of the U.S. to make fun of climate change (which is causing more severe weather, year-round).
3) Attempted to rebrand Nancy Pelosi as… a "radical Democrat."
4) Made another effort to dominate Pelosi in response to her cancellation of his State of the Union speech, insisting he has "so many options" which include "doing it as per your written offer (made during the Shutdown, security is no problem), and my written acceptance," whatever that is supposed to mean.
—Presidential Twitter
the national interest
Trump's One Legislative 'Win' Is Actually a Failure
Politics
Photo: "Ghadir Taher, 27, an interpreter who worked for a U.S. defense contractor, was the 4th American killed in the suicide bombing attack in Syria this week. She was born and raised in Damascus and immigrated to the US in 2001, eventually becoming a naturalized citizen." - CNN's Jake Tapper
Another reason why Trump's deal carries little weight
One big development in the last 24 hours was the Supreme Court deciding not to take the DACA case. Trump has said he was waiting for the court to uphold his decision to terminate DACA. Now, looks like that leverage gone until at least summer, 2020.
—
@shearm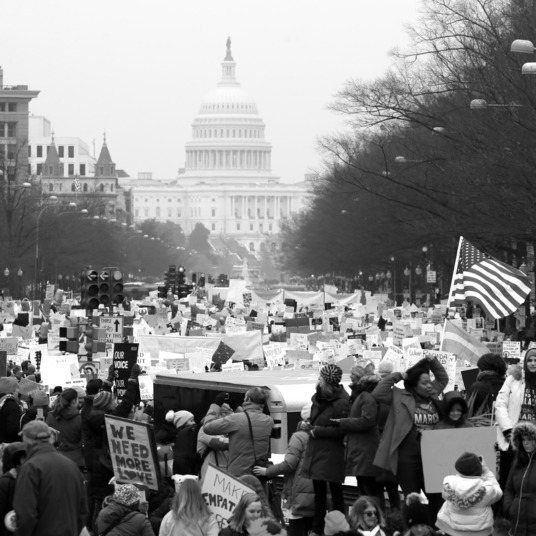 2019 women's march
The Most Powerful Scenes From the 2019 Women's March
Trump's big announcement: repeat his prime time address and add a D.O.A. proposal extending the limbo of DACA/TPS recipients
Below are some highlights from the reaction to Trump's Saturday theatrics.
Pelosi rejected the deal, which Democrats were not consulted about, before Trump had even started speaking:
Democrats were hopeful that the president was finally willing to reopen government and proceed with a much-need discussion to protect the border. Unfortunately, initial reports make clear that his proposal is a compilation of several previously rejected initiatives, each of which is unacceptable and in total, do not represent a good faith effort to restore certainty to people's lives. It is unlikely that any one of these provisions alone would pass the House, and taken together, they are a non-starter.
As did a key would-be Democratic compromiser on the issue, per CNN's Ryan Nobles:
[Senator Dick Durbin], who co-authored the [bipartisan] BRIDGE Act which is said to be part of the POTUS proposal to end the shutdown, says he "cannot support the proposed offer as reported"
The proposal wasn't the BRIDGE Act, either. Vox's Dara Lind, like many others, had some deja vu:
The stuff Trump is talking about right now is pretty much verbatim the stuff offered in the last version of a proposal, sent as a letter 2 weeks ago, plus a legislative extension of existing DACA and TPS protections.
The Post's Matt Viser notes some rhetorical whiplash, too:
"The radical left can never control our borders. I will never let it happen. Walls are not immoral," President Trump says, minutes after calling for both sides to work together for common compromise.
Meanwhile, Mitch McConnell is riding in on a hypocritical high horse, per CNN's Manu Raju:
McConnell, who has said repeatedly only bills with support of Trump and Democrats can end shutdown, says he will hold vote on Trump proposal — even though Dems are rejecting it. "Everyone has made their point—now it's time to make a law. I intend to move to this legislation this week"
Speaking of non-starters, immigration advocate Frank Sharry decodes another part of Trump's remarks which will repel Democrats:
Trump's "asylum reforms" riff is code for denying due process for unaccompanied minors and eviscerating [the] Flores Settlement. Means that kids who now get protection will get sent back to face death and kids will be detained for as long as Trump wants.
The Atlantic's Ronald Brownstein highlights Trump's dizzying logic, since he was the one to cancel DACA and TPS in the first place:
Isn't this a kind of hostage-taking squared? First end the programs. Then shut the government. Then promise to temporarily restore the programs you've ended & reopen the government you have closed, in return for the ransom of money for a wall that 55-60% of country consistently opposes?
And the Post's Glenn Kessler points out a glaring political fail:
Unless I missed it, Trump expressed no sympathy for federal workers who are furloughed or working without pay.
On cue, several Republican lawmakers were in their foxholes claiming that Trump is now the reasonable one. But CNN's Eliana Johnson reported that White House staffers were nervous about today:
[I'm told] there's increasing nervousness inside the White House that Trump's gambit will fail with Dems, which seems clear at this point — but also that it will hurt him with his base, which has supported him thru shutdown.
Sure enough, Ann Coulter is not amused:
Trump proposes amnesty. We voted for Trump and got Jeb!
Nor are immigration hawks, per Politico's Gabby Orr, who offers a key refresher as well:
The pile-on begins and it's not just from Dems. NumbersUSA head Roy Beck calls Trump's proposal "a loser for the forgotten American workers who were central to his campaign promises."
The last time Trump faced intense criticism from the immigration hawks in his base — when he was prepared to sign a clean CR — he did a 180 & triggered the shutdown. Its hard to picture him backing away a 2nd time (no guarantee he will) without jeopardizing their support.
So what was it all about? An attempt at shutdown leverage while federal workers suffer. Note the White House followup to the speech, as reported by PBS' Yamiche Alcindor:
[White House Chief of Staff] Mick Mulvaney is blaming Democrats if [federal workers] don't get paid next week: "If the bill is filibustered on Tuesday, and we do not get a motion to proceed, people will not get paid. I will be very curious to see how the Democrats — especially in the Senate — choose to deal w/ this piece of legislation."
2019 women's march
Ocasio-Cortez's Women's Rally Speech Was a Fierce Call to Action
Democrats appear to have no interest in Trump's impending "compromise" offer regarding DACA and TPS recipients
The Wall Street Journal updates:
Mr. Trump is scheduled to make his announcement [on Saturday] at 4 pm. Aides cautioned that the announcement has already been delayed once by an hour, and that the president may still change his approach.
The offer to codify protections for young immigrants brought to the U. S. as children, known as Dreamers, is seen as a major concession inside the White House.
Axios passes along a pre-announcement rejection from a House Democratic aide:
"Dems were not consulted on this and have rejected similar overtures previously."
"Similar inadequate offers from the Administration were already rejected by Democrats."
"The BRIDGE Act does not fully protect Dreamers and is not a permanent solution.""This is not a compromise as it includes the same wasteful, ineffective $5.7 billion wall demand that shut down the government in the first place."
"This cannot pass the House or Senate.""The President must agree to re-open government and join Democrats to negotiate on border security measures that work and not an expensive and ineffective wall that the President promised Mexico would pay for."
Democrats have been under pressure from immigrant rights organizations not to give Trump funding for a wall. And Trump's offer would not provide a path to permanent legal status — or citizenship — that many Democrats have sought in any immigration deal that would dramatically ramp up border security measures. …
Trump also could face blowback from conservatives, including prominent commentators, who have opposed any attempts to extend deportation protections from undocumented immigrants.
Mitch McConnell, who has been avoiding the shutdown impasse, now deserves and/or is looking for credit for the offer — if you parse the update to Axios' earlier scooplet:
[A]fter Pelosi's letter, the source said, it became clear to McConnell she was "never going to get off her position and some other spark needed to happen." McConnell told the president that it was his view that Pelosi was never going to move. She would and could not negotiate on border funding because of her caucus, and Trump needed to be the one to put something forward he would sign so that McConnell would have the presidential backing to bring it to the floor.
McConnell also encouraged Trump to make the offer tantalizing to Democrats; it couldn't be something that only Trump would sign and Republicans would support, but something that could win over some Democrats. The Pence-Kushner-McConnell meeting on Thursday night solidified the plan. McConnell did not try to write the bill for them; this bill is the culmination of Kushner and Pence's conversations with some Democrats and an inventory of proposals they discussed. Democratic whip Dick Durbin is Kushner's closest Democratic ally in the Senate after they worked together on criminal justice reform, according to White House officials.
BuzzFeed News says it has "re-confirmed" its reporting and is standing by it
Updated statement from
@BuzzFeedNews
:
"As we've re-confirmed our reporting, we've seen no indication that any specific aspect of our story is inaccurate. We remain confident in what we've reported, and will share more as we are able." –Matt Mittenthal, spokesperson.
—
@grynbaum
horrible things
Mob of MAGA Hat-Wearing Teen Boys Caught on Video Harassing Native Elder
2019 women's march
The Best, Smartest, and Funniest Signs From the Women's March
education
Karen Pence's Job at an Anti-LGBT School Is Definitely the Taxpayers' Business
Are Democrats starting to cave? Here's their latest offer…
House Democrats have added more than $1 billion in border-related spending to a package of funding bills that would reopen most of the government[.] … The proposal to include more spending on border measures is scheduled for a vote next week, according to two senior Democratic officials. The plan reflects a shift in strategy by congressional Democrats, who have maintained that they would not give the president a counterproposal until he drops his insistence on a wall and signs legislation to reopen the government. It is an attempt to rebut Mr. Trump's repeated portrayal of Democrats as opponents of border security and their denunciation of his wall as an embrace of open borders.
About half the money, $524 million, would be for additional infrastructure at ports of entry on the border, one Democrat said, speaking on the condition of anonymity because the plans have not been formally announced, while $563 million more would be inserted to fund 75 immigration judges, who adjudicate the claims of migrants who make asylum claims at the border. …
Democrats are also considering a new funding bill for the [Department of Homeland Security,] which has $1.3 billion allocated for border security. The proposal would include additional border protection measures they have endorsed, such as more personnel and scanning technology to intercept illicit drugs.
A historic new feat for the president's unpopularity
I don't get wow'd by poll numbers, but a Pew poll came out with what I think is stunning: More Americans think Trump's presidency will be unsuccessful than any presidency at any point in last 25 years (including George W. Bush in 2007 after Iraq/Katrina/2006 midterms).
It's one thing not to like a president now… It's another to say he's so bad that I think in the future he'll be seen as unsuccessful… Right now, a near majority (47%) say that. It suggests Trump will have a very hard time getting out of the cellar.
—
Harry Enten (via Twitter)
Senior polling analyst at CNN
the law
William Barr Needs Trump Just as Much as Trump Needs Him
A potential perjury investigation in Trump's cabinet
New documents show [Secretary of Homeland Security] Nielsen lied in sworn testimony to Congress about the administration's family separation policy.
—Senator Jeff Merkley
russia investigation
Mueller Disputes BuzzFeed Report That Trump Ordered Cohen to Perjure Himself
Will museums start to take names like "Koch" and "Sackler" off their donor plaques?
Our most revered institutions hold themselves to an ethical standard that does not allow accepting money from wealthy drug dealers – however tempting the prospect or worthwhile the project. They refuse to become philanthropic money launderers, cleansing dirty reputations by selling prestigious naming rights.
There is one notable exception to this institutional honor code: the Sackler family. The Sacklers have made a fortune from OxyContin, the painkiller blamed for sparking the deadly opioid crisis. They are world renowned donors – despite also being world class drug pushers, responsible for almost as many deaths last year as the drug cartels in Mexico.
The issue of ethical philanthropy goes far beyond the Sacklers. Charitable giving is a very big business – donations total $400bn a year in the US alone. It is also mostly unregulated, allowing for glaring anomalies like the American and National Museums of Natural History both accepting enormous Koch brother donations that were earned by despoiling our natural and political environments.