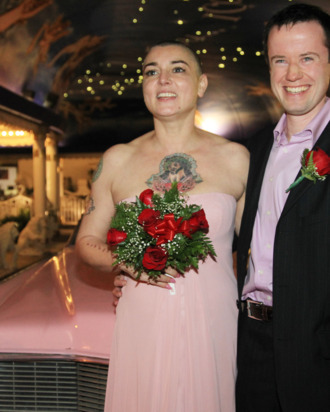 Irish singer Sinead O'Connor married Barry Herridge at the famous Little White Wedding Chapel on Las Vegas Blvd in Sin City. Dressed in a pink strapless wedding gown which showed many of her tattoos Sinead was glowing with happiness and smiles as the pair wed in one of the most famous wedding chapels. The likes of Elvis and Britney Spears have all wed at this chapel and Sinead has now followed in their footsteps. The ceremony lasted about 15 minutes and the pair seemed absolutely head over heals with each other, commenting that they wouldnt be out and about in the casino on their wedding night but still gambling none the less.
Pictured: Sinead O'Connor and Barry Herridge
Ref: SPL341642 081211
Picture by: Splash News

Splash News and Pictures
Los Angeles: 310-821-2666
New York: 212-619-2666
London: 870-934-2666
photodesk@splashnews.com

Hey, New York celebrities and/or very drunk people: Why go all the way to Vegas for a quickie marriage? If Chris Christie signs legislation into law eliminating the waiting period for marriage, you'll be able to seek your bliss in Atlantic City. Conveniently, the same proposed law will also allow couples to annul marriages within 3o days without going to court. New Jersey's got you covered!