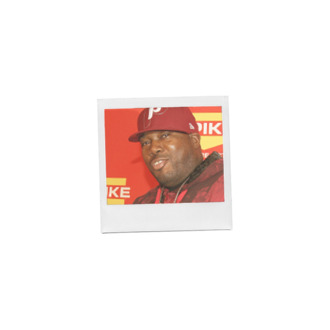 Name: Rahzel
Age: Huh?
Neighborhood: The Bronx ("The boogie down")
Occupation: Vocal percussionist; he'll be appearing next Monday, February 13, at the Tibet House Benefit Concert at Carnegie Hall, alongside Lou Reed, Stephin Merritt, Das Racist, Philip Glass, Laurie Anderson, James Blake, and more.

Who's your favorite New Yorker, living or dead, real or fictional?
My mom. She's pretty street-smart and taught me everything there is to know about living in New York, the good and the bad: How to spot a pickpocket, how to play three-card monty. (Don't get sucked in. If you're winning, it's time to go.) She grew up in the Bronx and Harlem.
What's the best meal you've eaten in New York?
What's the name of that restaurant, it's right there in Times Square … it's the Italian place where you get huge portions … it's right across the street from MTV … Carmine's! You gotta do the chicken parmesan there.
In one sentence, what do you actually do all day in your job?
Create sounds.
What was your first job in New York?
Where somebody actually handed me money? Or my first job where I had to fill out an application? When I was about 13 I started cutting grass and mowing people's lawns and washing cars, bagging groceries at the supermarket: I was the handy-guy. My first job where I had to fill out an application was a clerical job at the age of 15, downtown on Canal street. It was my first time ever being on a computer, and it was really strange back then, it was like, "wow, what is this thing?" Huge, green, glow-in-the-dark letters.
What's the last thing you saw on Broadway?
Fela! It was fantastic. Actually, I got to record a track with the lead singer. It's gonna be on my new CD coming out this year, my ode to hip-hop.
Do you give money to panhandlers?
Yes. I give money, food, to whoever.
What's your drink?
On special occasions I'll have some, you know, red wine or whatever. But on an average day, probably milk.

How often do you prepare your own meals?
Not as often as I should. I would say probably five times out of the month. I make anything pasta-related. And I make a mean salad.

What's your favorite medication?
Theraflu. That's my favorite. I can carry it with me.

What's hanging above your sofa?
I have an oil painting of a ballet dancer and a picture of my mom. The artist [of the painting] is not a well-known artist, but he's definitely up-and-coming. I figure if he dies, one day it's going to be worth a lot of money [Laughs].

How much is too much to spend on a haircut?
$50. I go up to a guy in the Bronx who's been cutting my hair for ten years. I mean, I give him $20 'cause I know him, but $50 is way too much.
When's bedtime?
Oh my god, you're asking an entertainer what time he goes to bed. I fall asleep randomly. I missed your call because I dozed off waiting for you. Bedtime is whenever I can get it.

Which do you prefer, the old Times Square or the new Times Square?
I like the new one. Pretty lights. And the M&M store.

What do you think of Donald Trump?
Donald Tizzy! I always wondered what he would be like as president — that would be too funny. He's more of a character than anything.

What do you hate most about living in New York?
The meter maid people now look like NYPD. You think it's a cop, but it's just somebody giving you a ticket. Before, you were able to tell them apart. But they don't get beat up as much anymore, so …
Who is your mortal enemy?
My landlord. He smiles to my face but he's secretly trying to get me out of here. He's trying to turn the building into a co-op.

When's the last time you drove a car?
Today.

How has the Wall Street crash affected you?
It gave everyone an excuse to say, "I don't have any money." When I ask, "Yeah, so how much are you gonna pay me to do that show?" I get, "Well, uh, we don't really have any money because you know, the economy is bad now."
Times, Post, or Daily News?
USA Today.

Where do you go to be alone?
Sometimes I take a long walk around Van Cortlandt Park. It's really serene.

What makes someone a New Yorker?
A bad attitude and an ego.