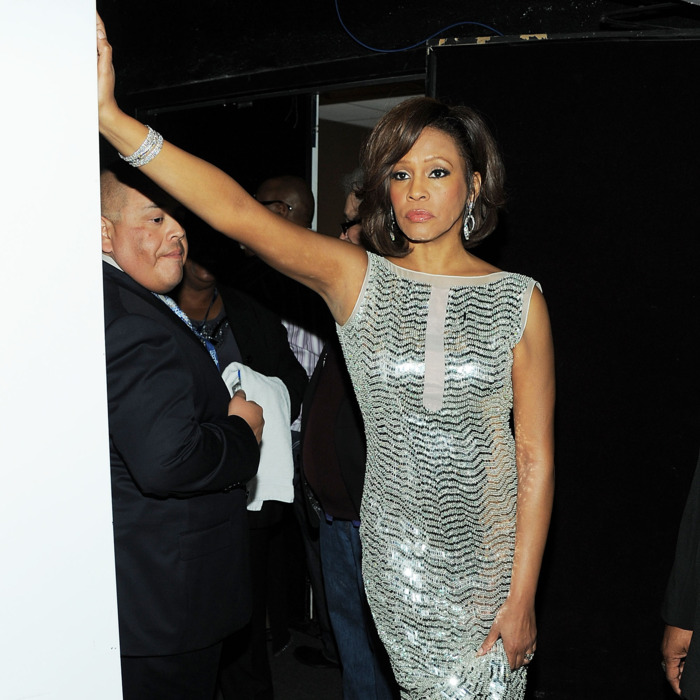 Even the trip home for Whitney Houston's body was star-studded. A golden hearse awaited the casket as it was flown out of Los Angeles, where the singer died on Saturday, on a private jet provided by Tyler Perry; Houston's cousin Dionne Warwick accompanied Houston's body to Newark, New Jersey, where a funeral will be held Friday in the 19,000-seat Prudential Center. (Update: The family has instead decided on a private service at Houston's childhood church.)
The tabloid press, meanwhile, is picking over details of the star's sudden death, as they did with Michael Jackson before her, discovering that some of the pills found in her Beverly Hills hotel room — reportedly including Xanax, Valium, amoxicilin, and larazepam — were from the same Mickey Fine pharmacy where Jackson filled his own prescriptions. Doctors, again, could be held responsible.
British gossip papers are reporting that up to nine of Houston's doctors will be probed about the singer's prescription pills. If the drugs were provided illegally, a professional could be found criminally negligent. Toxicology reports are still pending, but the L.A. coroner's office has ruled out homicide, and said that while water was found in Houston's lungs after she was discovered in her hotel bathtub, it's not believed that she drowned.
While the Post is previewing this week's memorial service, the Daily News, under the front-page headline "Died Broke," focuses on the celeb's money woes — the reported squandering of a $100 million fortune.
Photos from the hotel suite where she died show not only the bathtub, but a mess of food, including a hamburger, fries, and a turkey sandwich, along with beer, champagne, and a shaving razor flung on the floor. It's the sort of minutiae that gets pored over by a public that is rabid for every detail and yet still has no answers, not that we're necessarily entitled to them anyway.