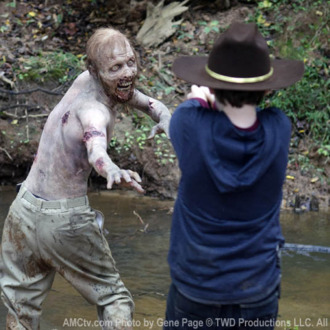 In just the past week, a naked man ate a homeless guy's face in Miami, a New Jersey man threw his intestines at police, a Canadian porn star killed a man and ate parts of his body before mailing other parts to government officials, a Maryland man killed his roommate and ate his heart and brain, and a Staten Island pizza parlor owner nommed a dude's ear. It seems clear that this sudden burst of zombie activity points inexorably to the beginning of the end for mankind. But we started to wonder this morning — from inside our fortified, WiFi enabled, mountainside bunker — whether the only thing that's changed is that, in the wake of the headline-grabbing Miami incident, we've suddenly started paying a lot more attention to zombie-esque stories than we had in the past. After digging around, we found that while the frequency of cannibal stories over the past week is unusual, this kind of stuff happens fairly regularly. Here is a rundown of what we've found from just the past six months.
THE FEED
Who could have predicted the Swift Boat/birther guy would lie?
BREAKING: Roger Stone pal Jerome Corsi tells my colleague
@annaschecter
that Mueller's investigators informed Corsi about a week ago he will be indicted for perjury. "When they have your emails and phone records…they're very good at the perjury trap," he says.
—
@KenDilanianNBC
world view
Don't Let Trump's Slights Overshadow Lessons From World War I Remembrances
2018 midterms
Putin Loses His Best Friend in Congress As California's Rohrabacher Goes Down
the top line
The Dollar Keeps Getting Stronger. Here's What That Means for You.
el chapo
The El Chapo Trial Is Already a Movie Set
Dems' initial (doomed) priority in the House: voting reform
Democrats will take control of the U.S. House in January with big items topping their legislative to-do list: Remove obstacles to voting, close loopholes in government ethics law and reduce the influence of political money.
Party leaders say the first legislative vote in the House will come on H.R. 1, a magnum opus of provisions that Democrats believe will strengthen U.S. democratic institutions and traditions.
Trump's trade war may be about to escalate
The White House is circulating a draft report by the U.S. Commerce Department over whether to impose tariffs on automobile imports to protect national security, three people familiar with the matter said. 
President Donald Trump is scheduled to meet with senior members of his trade team on Tuesday to discuss how to proceed on the potential tariffs, two of the people said. Speaking on condition of anonymity to discuss internal deliberations, they didn't give any insight into Commerce's conclusions.  
On a day when U.S. stocks were broadly lower, shares of General Motors Co. declined and Ford Motor Co. trimmed an advance following news of the auto-tariff report.
how to get away with murder
Don't Murder Anyone Around an Amazon Echo During Election Season
life after warming
How Climate Change Has Turned Rainy Season Into Fire Season in California
Florida judge urges calm amid GOP accusations of voter fraud
A Florida judge said he's seen no evidence of wrongdoing in the vote-counting in Broward County and urged all sides to "ramp down the rhetoric."
Circuit Chief Judge Jack Tuter said during an emergency hearing Monday that there is a need to reassure citizens that the integrity of the Florida recount is being protected.
To that point, he urged lawyers for Rick Scott and others representing the Republican and Democratic parties and their candidates as well as the Broward County elections office to agree on some minor additions in security, including the addition of three more law enforcement officers to keep an eye on things.
cityscape
Columbia U. Tries to Welcome the Neighbors — and Keeps Them at Arm's Length
A graphic that highlights the connection between climate change and California's disastrous wildfires
business
7-Eleven's Alleged Collaboration on ICE Raids Is a Cautionary Tale
the national interest
The Republican Denial of Trump's Racism Is Absurd
Politics
TMZ reports that comics legend Stan Lee has died
Stan Lee, the man who co-created Marvel Comics, has died … Stan's daughter tells TMZ.
We're told an ambulance rushed to Lee's Hollywood Hills home early Monday morning and he was rushed to Cedars-Sinai Medical Center. We're told that's where he died.
Lee had suffered several illnesses over the last year or so – he had a bout of pneumoniaand vision issues.
More fuel for your elaborate conspiracy theory about what Mueller's really up to
Michael Cohen, President Trump's former personal attorney and close associate, arrived in Washington, D.C., Monday morning, accompanied by one of his own criminal defense lawyers.
The purpose of Cohen's travel is unclear, and Cohen declined to answer any questions from ABC News about why he was there.
Cohen has previously participated in multiple interview sessions totaling more than 40 hours with investigators from the office of the special counselRobert Mueller in Washington, D.C., and federal prosecutors in New York City, sources have told ABC News.
A new alternative fact for all the sports fans out there
palmer luckey
It Turns Out Palmer Luckey Was Fired
Rick Scott's plan to foil vote-counting in Florida fails, temporarily
JUST IN: Judge denies Rick Scott campaign request for injunction – at least for now. Parties will reconvene in an hour.

"I don't think I have any evidence to enter a mandatory injunction right now," Judge Jack Tuter said.
—
@aseitzwald
memes
Tired: Eating Tide Pods. Wired: Drinking Tide Boxed Wine.
2018 midterms
Florida Recounts Proceed Amid Wild GOP Claims of Election Stealing
Get ready for a lot more of the Mitch McConnell-invented "presidential harassment" talking point
The prospect of Presidential Harassment by the Dems is causing the Stock Market big headaches!
—
@realDonaldTrump
Woolsey Fires continue to rage across Southern California
Photo: Sandy Huffaker/Getty Images
Race and gun violence collide in horrific story out of Illinois
Witnesses say a Midlothian police officer responding to a shooting inside a south suburban bar shot and killed the wrong person early Sunday morning.
After security asked a group of drunk men to leave Manny's Blue Room Bar around 4 a.m. Sunday, witnesses say someone came back with a gun and opened fire. Security returned fire, and according to witnesses, 26-year-old armed security guard Jemel Roberson apprehended one of the men involved outside.
"He had somebody on the ground with his knee in back with his gun in his back like, 'don't move,'" witness Adam Harris said.
Soon after, witnesses say an officer responding to the shooting fired at Roberson after arriving on the scene.
"Everybody was screaming out, 'he was a security guard,' and they basically saw a black man with a gun and killed him," Harris said.
Democrats' centralized fundraising machine is the envy of Republicans
Mitch McConnell stood before a roomful of Republican donors on Wednesday night to thank them for their help in the midterms. But the Senate leader also issued a dire warning: Democrats had just thumped them in the all-important online donor game, and the GOP badly needs to catch up.
The heart of the problem, McConnell said at the event at party headquarters on Capitol Hill, is ActBlue. The Democratic fundraising tool funneled over $700 million in small donations to House and Senate candidates over the course of the 2018 campaign. The GOP leader said Republicans were getting swamped in the hunt for online givers and that he'd charged his political team with coming up with a solution to enable them to compete in 2020.
The recording of Khashoggi's murder is making its way around the world
Canadian Prime Minister Justin Trudeau on Monday became the first Western leader to acknowledge his country had heard recordings of the killing of Saudi writer Jamal Khashoggi.
"Canada has been fully briefed up on what Turkey had to share," Trudeau said from Paris, where he was attending the Peace Forum following the WWI Armistice centenary.
His comments come just days after Turkish President Recep Tayyip Erdogan said he had given recordings "to Saudi Arabia, to America, to the Germans, the French, to the British, to all of them."
2018 georgia governor race
What's Happening With Stacey Abrams's Governor Race?