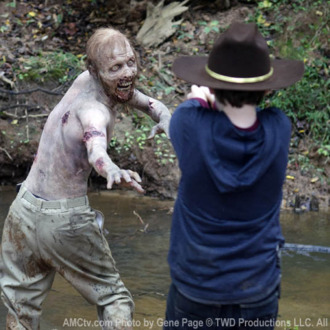 In just the past week, a naked man ate a homeless guy's face in Miami, a New Jersey man threw his intestines at police, a Canadian porn star killed a man and ate parts of his body before mailing other parts to government officials, a Maryland man killed his roommate and ate his heart and brain, and a Staten Island pizza parlor owner nommed a dude's ear. It seems clear that this sudden burst of zombie activity points inexorably to the beginning of the end for mankind. But we started to wonder this morning — from inside our fortified, WiFi enabled, mountainside bunker — whether the only thing that's changed is that, in the wake of the headline-grabbing Miami incident, we've suddenly started paying a lot more attention to zombie-esque stories than we had in the past. After digging around, we found that while the frequency of cannibal stories over the past week is unusual, this kind of stuff happens fairly regularly. Here is a rundown of what we've found from just the past six months.
THE FEED
arizona
'Sheriff' Joe Arpaio Announces Campaign for Maricopa County Sheriff
trump v. weather
Trump Wanted to Nuke Hurricanes to Stop Them From Hitting U.S. Coast: Report
the media
In War on the Press, Trump Allies Weaponize Bad Posts
climate change
Trump Is Prioritizing the Climate's Destruction Over His Own Reelection
Sharpening the pitchforks?
The latest NBC News/Wall Street Journal poll finds that — despite Americans' overall satisfaction with the state of the U.S. economy and their own personal finances — a majority say they are angry at the nation's political and financial establishment, anxious about its economic future, and pessimistic about the country they're leaving for the next generation.
"Four years ago, we uncovered a deep and boiling anger across the country engulfing our political system," said Democratic pollster Jeff Horwitt of Hart Research Associates, which conducted this survey in partnership with the Republican firm Public Opinion Strategies. "Four years later, with a very different political leader in place, that anger remains at the same level."
The poll finds that 70 percent of Americans say they feel angry "because our political system seems to only be working for the insiders with money and power, like those on Wall Street or in Washington." Forty-three percent say that statement describes them "very well." …
Republicans report feeling somewhat less angry than they were almost four years ago, but that optimism has been offset by an uptick in anger from other groups typically more aligned with the Democratic Party.
foreign policy
Trump's Contradictions Dominate and Disrupt Another G-7
joe walsh
Joe Walsh Launches Primary Bid Against Trump, Who He Admits He Helped Create
Another Joe wants to be Trump's reelection woe
Former Illinois Congressman Joe Walsh announced Sunday morning that he is running for president as a Republican, challenging President Trump in the GOP primary race. "Friends, I'm in. We can't take four more years of Donald Trump. And that's why I'm running for President," Walsh tweeted. "It won't be easy, but bravery is never easy. But together, we can do it."
The Tea Party favorite sat down with ABC News' George Stephanopoulos for an interview airing Sunday morning, in which he explained why he decided to enter the race.
"I'm running because he's unfit; somebody needs to step up and there needs to be an alternative," Walsh said. "The country is sick of this guy's tantrum – he's a child."
Trump campaign communications director Tim Murtaugh responded to the announcement by telling ABC News: "Whatever."
These aren't the second thoughts you're looking for
Reporter: Mr. President, any second thoughts on escalating the trade war with China?
President Trump: Yeah, sure. Why not?
Reporter: Second thoughts? Yes?
Trump: Might as well. Might as well.
Reporter: You have second thoughts about escalating the war with China?
Trump: I have second thoughts about everything.
White House press secretary Stephanie Grisham, after Trump's answer was widely reported: His answer has been greatly misinterpreted. President Trump responded in the affirmative — because he regrets not raising the tariffs higher.
—
Today at the G7
Trump's war on the economy continues
President Trump asserted on Saturday that he has the authority to make good on his threat to force all American businesses to leave China, citing a national security law that has been used mainly to target terrorists, drug traffickers and pariah states like Iran, Syria and North Korea.
As he arrived in France for the annual meeting of the Group of 7 powers, Mr. Trump posted a message on Twitter citing the International Emergency Economic Powers Act of 1977 — a law meant to enable a president to isolate criminal regimes but not intended to be used to cut off economic ties with a major trading partner because of a disagreement over tariffs.
"For all of the Fake News Reporters that don't have a clue as to what the law is relative to Presidential powers, China, etc., try looking at the Emergency Economic Powers Act of 1977," Mr. Trump wrote. "Case closed!" …
The International Emergency Economic Powers Act says that if the president decides that circumstances abroad have created "any unusual and extraordinary threat" to "the national security, foreign policy, or economy of the United States," the president can declare a "national emergency." This triggers special authority for the leader to regulate "any transactions in foreign exchange" by Americans.
When Biden's stream of consciousness takes a dark turn
"None of you . . . women are old enough — but a couple of you guys are old enough," he said during a town hall at Dartmouth College. "I graduated in 1968. Everybody before me was, 'Drop out, go to Haight-Ashbury, don't trust anybody over 30, everybody not get involved.' No, I'm serious. I know no woman will shake her head and acknowledge it. But you guys know what I'm talking about. Right? But then what happened?"
The front-runner for the Democratic presidential nomination referenced the assassinations of two of his political heroes, Martin Luther King Jr. and Robert F. Kennedy — who was killed while running for president.
"Imagine what would have happened if, God forbid, if Barack Obama had been assassinated after becoming the de facto nominee," he continued. "What would have happened in America?"
The comment — which, as Biden's campaign pointed out with a video, came on the 11th anniversary of Obama naming Biden as his running mate — then led to him speaking about the 1970 shootings of demonstrators at Kent State University, and a new era of activism.
the national interest
'American Carnage' Exposes the Republican Slide Into Trumpism
crime
Nathan Carman Testifies About His Mother's Mysterious Disappearance
the top line
This Is How Trump Will Tank the Economy and His Presidency
abortion
Anti-Abortion Activists Object to State Bans — But Only on Tactics
In case you were feeling too optimistic about Democrats' chances of thwarting Trump's agenda
Justice Ruth Bader Ginsburg has just completed three weeks of radiation treatment at Memorial Sloan Kettering Cancer Center in New York, the U.S. Supreme Court disclosed Friday.
The radiation therapy, conducted on an outpatient basis, began Aug. 5, shortly after a localized cancerous tumor was discovered on Ginsburg's pancreas. The treatment included the insertion of a stent in Ginsburg's bile duct, according to a statement issued by the court.
Doctors at Sloan Kettering said further tests showed no evidence of disease elsewhere in the body. The treatment comes just months after Ginsburg was operated on for lung cancer last December. The 86-year-old justice has battled cancer in various forms over the last 20 years.
obits
David Koch's Monstrous Legacy
filibuster
Today's Republicans Use the Filibuster Just Like the Segregationists Did
games
The Joyous Masochism of Rooting for the Cleveland Browns
joe biden
How Big a Problem is Joe Biden's 'Enthusiasm Gap'?
oops
Accidentally Destroying My iPhone Really Put My Entire Life in Perspective
the national interest
Trump Is Melting Down Because China Won't Give In on Trade
Politics
Bolsonaro may face some serious consequences for his heedless environmental policies
European leaders have reacted with growing fear and anger to the fires ravaging Brazil's rain forest, calling it a worldwide crisis that is accelerating global warming — and one that Brazil's leader appears unwilling to combat.
President Emmanuel Macron of France went so far, on Friday, as to accuse President Jair Bolsonaro of Brazil of lying about being committed to fighting climate change and protecting the Amazon forest.
As a result, Mr. Macron said, he would try to kill a major trade deal between Europe and South America that has been years in the making.
interesting times
The Presidency of Donald Trump Never Gets Any Less Absurd
Trump sends Dow plunging with this nonsense
Our Country has lost, stupidly, Trillions of Dollars with China over many years. They have stolen our Intellectual Property at a rate of Hundreds of Billions of Dollars a year, & they want to continue. I won't let that happen! We don't need China and, frankly, would be far….
….better off without them. The vast amounts of money made and stolen by China from the United States, year after year, for decades, will and must STOP. Our great American companies are hereby ordered to immediately start looking for an alternative to China, including bringing..
….your companies HOME and making your products in the USA. I will be responding to China's Tariffs this afternoon. This is a GREAT opportunity for the United States. Also, I am ordering all carriers, including Fed Ex, Amazon, UPS and the Post Office, to SEARCH FOR & REFUSE,….
….all deliveries of Fentanyl from China (or anywhere else!). Fentanyl kills 100,000 Americans a year. President Xi said this would stop - it didn't. Our Economy, because of our gains in the last 2 1/2 years, is MUCH larger than that of China. We will keep it that way!
—@realdonaldtrump
vision 2020
Moulton Drops Out of 2020 Race; Could de Blasio Be Next?
Trump asking the tough, wrongly spelled questions
….My only question is, who is our bigger enemy, Jay Powel or Chairman Xi?
—
@realDonaldTrump
life after warming
The Political Status Quo Is No Match for Climate Change
Representative Seth Moulton of Massachusetts is dropping out of the presidential race, ending a candidacy that emphasized Mr. Moulton's centrist politics and military service but gained no traction with Democratic primary voters.
Mr. Moulton, 40, said in an interview that he had no immediate plans to endorse another candidate, but he warmly praised former Vice President Joseph R. Biden Jr. Mr. Moulton planned to announce the end of his campaign in a formal speech before the Democratic National Committee on Friday.
Mr. Moulton suggested that most of the other Democratic candidates were also laboring in vain at this point, with only a tiny few — Mr. Biden and Senators Elizabeth Warren and Bernie Sanders — remaining as real competitors for the nomination. He warned in the interview that if Democrats were to embrace an overly liberal platform, it could make it harder for the party to defeat President Trump.
just asking questions
Jeffrey Gundlach on Recession Odds, Bitcoin, and Why Trump Might Not Run Again