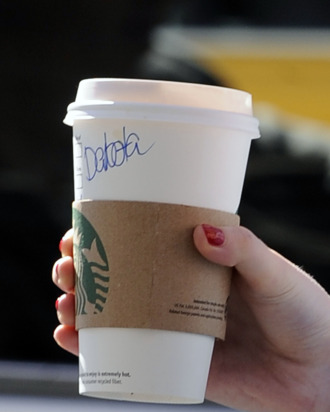 Dakota Fanning, just like ordinary folks, seen with her name written on a Starbucks while grabbing coffee in New York City.
Pictured: Dakota Fanning's cup
Ref: SPL379534 050412
Picture by: Splash News

Splash News and Pictures
Los Angeles: 310-821-2666
New York: 212-619-2666
London: 870-934-2666
photodesk@splashnews.com

It adds 75 years to your life! It takes 135 days off your sleep cycle and 23 years off your life if you have between eight and eleven cups a day, but only if you drink it in a red mug with one Splenda. That sort of thing. But never before have we heard "it makes you a creepy serial groper." Hmm, sounds prettttty dubious to us. Science? Got anything here?