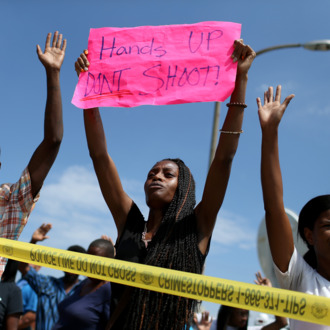 As of Saturday afternoon, Ferguson (and the rest of the country) is still waiting to see if police officer Darren Wilson will face criminal charges in the shooting death of 18-year-old Mike Brown. A grand jury decision on the indictment seemed imminent on Friday, with local police officials and around 50 protest groups announcing that they'd agreed on some "rules of engagement" for demonstrations following the announcement, the FBI sending an additional 100 agents to the St. Louis area, prosecutors mentioning preparations for a press conference, and Eric Holder, President Obama, and Brown's family urging calm. But CNN is now reporting that the 12-person panel "did not reach a decision Friday and it was unclear when it would reconvene."
Meanwhile, CBS News reports that two men were arrested in an FBI sting operation near St. Louis. Brandon Orlando Baldwin and Olajuwon Davis, both said to be members of the New Black Panthers, are facing federal firearms charges for buying explosives that they allegedly planned to detonate during the expected protests. Back in Ferguson, three men were arrested and charged with unlawful assembly during a Friday night demonstration outside the headquarters of the town's police department. As has been previously reported, the nearby Jennings School District has canceled Monday and Tuesday classes ahead of "possible unrest," while the Ferguson-Florissant School District still hasn't decided whether to open next week.
Update: CNN reports that the grand jury won't reconvene until Monday.