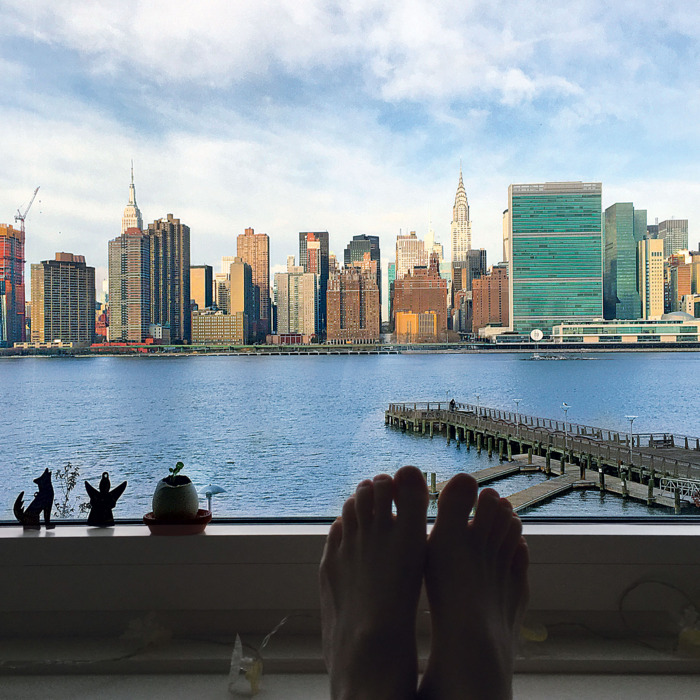 The view from a one-bedroom in Hunter's Point South, a new affordable-housing building in Queens.
Photo: Katie Rice
THE FEED
vision 2020
Joe Biden Reportedly Delays Wednesday Campaign Announcement
Kamala Harris Joins Elizabeth Warren as the second 2020 candidate to call for impeachment
vision 2020
Watch Amy Klobuchar's 'Please Clap' Moment
border crisis
FBI Arrests Far-Right Militia Leader Detaining Migrants at Gunpoint
vision 2020
Bernie Sanders Doesn't Need 2016 Support Levels to Win Lots of Delegates
xenophobia
Report: Stephen Miller Intervened to Deport Individual Migrants
sri lanka attacks
Outside the U.S., Persecution of Christians Is Real, As Sri Lanka Bombings Show
Sounds like something that totally happened
In between games of "Be Best" hopscotch and the namesake event at the White House's Easter egg roll, a child apparently couldn't pass up the chance to press President Donald Trump on one of his signature campaign promises.
As he colored cards for service members on the White House's South Lawn, Trump responded to a question from one of the children alongside him.
"I will. Oh, It's happening. It's being built now," Trump told the child, before speaking up to share the conversation with reporters. "Here's a young guy who said, 'Keep building that wall.' Can you believe that?"
"He's going to be a conservative someday!" Trump continued.
Jamelle Bouie makes the careful case for impeachment
Caution on impeachment makes sense. It is a monumental step that would shape politics in unforeseen and potentially negative ways. But inaction, or even just ordinary action, has risks too. Trump will continue try to shape the post-Mueller narrative to his advantage, condemning the investigation as a "witch hunt" from its origin to its conclusion. His allies will do the same. Even if they fail to persuade the public, they can muddy the waters and turn this constitutional conflict into another case of partisan bickering.
Democrats still have to defeat Trump at the ballot box, which means building a mass coalition against his politics.
At worst, impeachment could crowd out the material case against Trump, centering the election on legal questions versus the impact of his presidency on people's lives. But there's another possibility: that impeachment helps Democrats make a truly comprehensive case against the president, uniting his corruption, his criminality and his contempt for ordinary Americans under a single narrative.
google
Google Appears to Be Retaliating Against Walkout Organizers
The measles numbers aren't going in the right direction
Outbreaks in New York state continue to drive up the number of U.S. measles cases, which are approaching levels not seen in 25 years.
Health officials say 71 more cases were reported last week, with 68 of them from New York. That brings this year's total to 626.
That is already the most since 2014, when 667 were reported for the whole year. The most before that was 963 cases in 1994.
The Centers for Disease Control and Prevention released the latest numbers Monday.
federal reserve
Trump Fed Pick: 'No Women' in Men's Sports Unless They're Hot
vision 2020
Elizabeth Warren Is Coming for Your Student Loan Debt
federal reserve
Trump Finally Pulls Plug on Cain for Fed
Pelosi is unlikely to budge on impeachment
NEW:
@SpeakerPelosi
in letter to House Democrats on Mueller Report emphasizes that " the facts regarding holding the President accountable can be gained outside of impeachment hearings"
—
@elwasson
Latest New Hampshire poll shows strong numbers for Bernie, Buttigieg, dismal ones for Warren
lgbtq rights
Supreme Court to Decide Whether Anti-Discrimination Laws Cover LGBTQ Employees
"Nobody disobeys my orders," President Trump tells me when I asked about the portrayal in the Mueller report that his staff often ignored his directives.
—
@kaitlancollins
mueller time
Mueller Exposed Trump's Biggest Betrayal
vision 2020
All the Democrats Who Are — and Aren't — Running in 2020
.
@kwelkernbc
: "Are you worried about impeachment, Mr. President?"
President Trump: "Not even a little bit."
—
@NBCNews
vision 2020
Democrats Should Court the Economically Anxious Trump Voters Who Don't Exist
Trump is a closet Bernie bro
Those around the president say he's been of two minds when the topic of facing Sanders in 2020 comes up. While he sees the senator as a vulnerable opponent, he also has offered begrudging respect for his political acumen. Trump will—sometimes unprompted—bring up Sanders' own working-class support, and acknowledge that there is, in fact, potential for the senator to win over Trump voters with his populist appeal, three sources who've discussed this with the president tell The Daily Beast. The president has been impressed with Sanders' ability to ignite his base and draw a large crowd, though not, in his words, as "good as Trump." The president has also privately discussed the fundraising hauls that Sanders and his campaign have pulled off, noting Sanders' impressive track record with small-dollar donors.
Trump really does not want you to see his tax returns
U.S. President Donald Trump on Monday sued to block a subpoena issued by the Democratic chairman of the U.S. House Oversight Committee that sought information about his personal and business finances.
The subpoena sought eight years of documents from Trump and several of his businesses, lawyers for Trump and the Trump Organization said in a court filing.