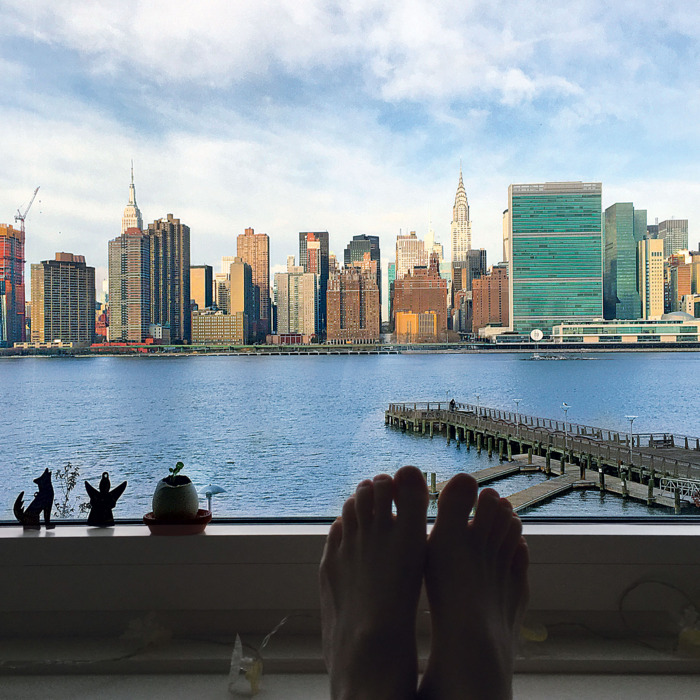 The view from a one-bedroom in Hunter's Point South, a new affordable-housing building in Queens.
Photo: Katie Rice
THE FEED
politics
Trump Says He Has "No Reason" To Cooperate With House Democrats
white nationalism
Steve King Empathizes With Jesus After Being Rebuked for White Nationalism
A damning report on a post-war institution
The Boy Scouts have kept files going back decades showing that nearly 8,000 volunteers have been excluded from the organization because they had been accused of sexually abusing children, according to a review by an expert on child sexual abuse.
The expert, Janet Warren, a professor at the University of Virginia, revealed the scope of the reported abuse when she testified as an expert witness in a trial involving allegations of child sexual abuse at a children's theater in Minneapolis.
Ms. Warren said during her testimony that she had been hired by the Boy Scouts and spent five years reviewing data known as the "perversion files'' that contained information on volunteers whose involvement in the group had been ended "because of reasonable allegations of child sexual abuse."
far-right
Please Get Rid of This Extremist, Washington Democrats Implore State GOP
Democrats aren't rallying behind Bernie Sanders's CNN town hall proposal to give the vote to the incarcerated
vision 2020
Joe Biden Reportedly Pushes Campaign Announcement to Thursday
power
Did Trump Call a Meeting With Twitter to Complain About Losing Followers?
vision 2020
The Turnout Boom in 2018 Was a Preview for 2020
feminism
Inside the Near Meltdown of the Roxane Gay–Christina Hoff Sommers Tour
israel
Netanyahu Wants to Name a Golan Heights Settlement After Trump
A promising sign for 2020 Democrats
Turnout among 18-to 29-year-old voters surged between 2014 and 2018, according to data released Tuesday. 
In 2014, just 20 percent of people in that age group voted, compared to 36 percent in 2018, or an increase of 79 percent, the Census Bureau reported, citing data from the Voting and Registration Supplement. 
Overall turnout was the highest it had been in decades, increasing from 41.9 percent in 2014 to 53.4 percent in 2018. According to The Washington Post, the 2018 turnout represents a 100-year high. 
The bureau also noted dramatic increases in turnout among Hispanic and Asian voters. The turnout for both Hispanic voters and non-Hispanic Asian voters increased by 13 percentage points, a 50 and 49 percent increase respectively. 
bernie sanders
Bernie Sanders: 'Democratic Socialist' Is Just a Synonym for New Deal Liberal
census
How Disastrous Is Adding a Citizenship Question to the Census?
#hashtag
Jack Dorsey Meets With His Frenemy, Donald Trump
Operation Bury Your Boss's War Crimes
Stabbing a defenseless teenage captive to death. Picking off a school-age girl and an old man from a sniper's roost. Indiscriminately spraying neighborhoods with rockets and machine-gun fire.
Navy SEAL commandos from Team 7's Alpha Platoon said they had seen their highly decorated platoon chief commit shocking acts in Iraq. And they had spoken up, repeatedly. But their frustration grew as months passed and they saw no sign of official action.
Tired of being brushed off, seven members of the platoon called a private meeting with their troop commander in March 2018 at Naval Base Coronado near San Diego. According to a confidential Navy criminal investigation report obtained by The New York Times, they gave him the bloody details and asked for a formal investigation.
But instead of launching an investigation that day, the troop commander and his senior enlisted aide — both longtime comrades of the accused platoon leader, Special Operations Chief Edward Gallagher — warned the seven platoon members that speaking out could cost them and others their careers, according to the report.
impeachment
Warren's Impeachment Gambit Could Work Out Well for Her
The stuff of sci-fi prologues
A  dome-shaped probe known as SEIS landed on the surface of Mars in December after hitching a ride on NASA's InSight spacecraft.
Its instruments measure surface vibrations caused by weather but are also capable of detecting movement from deep within the planet—so called "marsquakes"—or those caused by meteorite impacts.
The French space agency Cnes, which operates SEIS, said it had detected "a weak but distinct seismic signal" from the probe.
According to NASA's Bruce Banerdt, the quake detection "marks the birth of a new discipline: Martian seismology."
But will he rip off the contractors that build it?
Breaking: Netanyahu says he will put to a vote in the cabinet naming a Village in the Golan Heights after President Trump
—
@BarakRavid
Drain the…you know the rest
The Interior Department's Office of Inspector General has opened an investigation into whether six of President Trump's appointees have violated federal ethics rules by engaging with their former employers or clients on department-related business.
The new inquiry, which the office confirmed in an April 18 letter to the nonprofit Campaign Legal Center, is looking into senior Interior officials, including Assistant Secretary for Insular and International Affairs Doug Domenech, White House liaison Lori Mashburn and three top staffers at the Office of Intergovernmental and External Affairs. The Campaign Legal Center detailed the officials' actions in a Feb. 20 letter to the inspector general's office, suggesting a probe was warranted.
To avoid conflicts of interest, Trump signed an executive order days after taking office that requires appointees to recuse themselves from specific matters involving their former employers and clients for two years. The complaint, which cites reports in HuffPost and the Guardian as well as extensive public records, outlines how a half-dozen political appointees at Interior continued to discuss policy matters with organizations that had employed them in the past.
vision 2020
Texas Senator John Cornyn's Path to Reelection Just Got Tougher
russia investigation
Kushner: Mueller Probe 'Way More Harmful' Than Russia's Election Meddling
supreme court
Supreme Court Telegraphs Approval for Adding Citizenship Question to Census
Winning over black voters nationwide – much less in his hometown – might be a problem for Mayor Pete
 C.J. Neely, a black 16-year-old who has lived here all his life, thinks it's pretty cool that Pete Buttigieg, the mayor of this small city of about 100,000 people, is running for president.
"I never heard about anybody from Indiana running for president," Neely said recently outside his childhood home in the city's northwest.
Just a few days before, Buttigieg, a rising star of the Democratic Party, officially launched his bid for president at an abandoned Studebaker plant downtown that the city helped convert into a 800,000-square-foot tech hub, a symbol of the city pushing beyond its 20th century roots.
crime
A Complete Timeline of the Jussie Smollett Case
They will be sorely missed
Senior administration official: this morning White House Cabinet Secretary Bill McGinley announced that all Trump administration officials are being ordered to boycott the White House Correspondents Association dinner this weekend.
1/
—
@jaketapper
More evidence that the economy is not heading for a fall in the near term
As fears of a recession cool, the market is booming
special relationship
Everything You Need to Know About Trump's First U.K. State Visit
media
Pro-Trump Sinclair Broadcast Group Poised for National Expansion by 2020