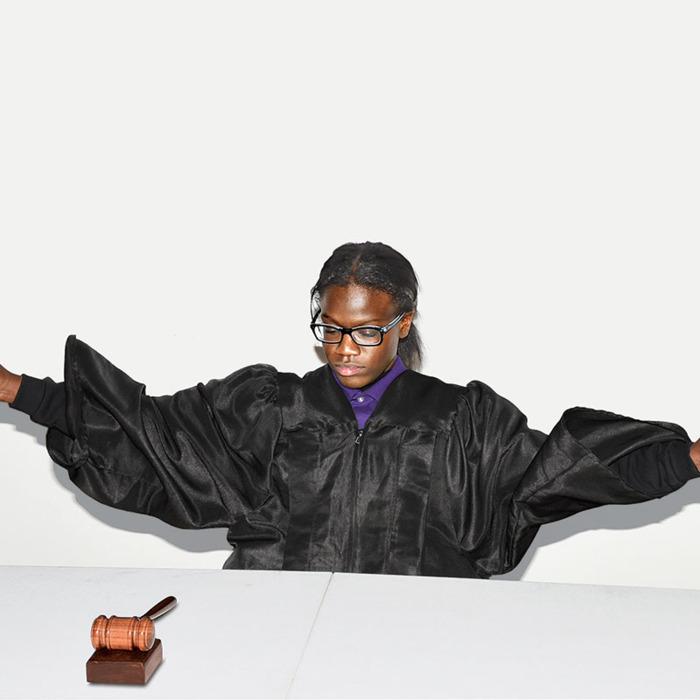 A Brownsville Youth Court judge.
Photo: Jason Nocito
THE FEED
Hickenlooper makes it official
COLORADO. Ex-Gov John Hickenlooper (D) launches run vs US Sen Cory Gardner (R). Thirteen other Dems in the race, but recent indep polls show Hick is solid frontrunner - by far - for the Dem nomination.
—
@Politics1com
nikki haley
Nikki Haley Pledges Allegiance to Trump-Pence 2020
A particularly bad poll for Trump
About 6 in 10 Americans disapprove of President Donald Trump's overall job performance, according to a new poll released Thursday by The Associated Press-NORC Center for Public Affairs Research, which finds some support for the president's handling of the U.S. economy but gives him weak marks on other major issues.
Just 36% of Americans approve of the way Trump is handling his job as president; 62% disapprove.
The numbers may be ugly for a first-term president facing reelection in 14 months, but they are remarkably consistent. Trump's approval rating has never dipped below 32% or risen above 42% in AP-NORC polls since he took office. By comparison, President Barack Obama's approval never dropped below 40% in polling by Gallup.
Note to Denmark's prime minister: "nasty" is what Trump calls women he doesn't like, it doesn't have to make sense
[Mette] Frederiksen says she doesn't feel her words were disrespectful. "I don't think I have been blunt or harsh in this discussion," she told state broadcaster DR. "I actually think we have responded very nicely from the Danish side."
"When you are close allies and good friends, like Denmark and the U.S. are, there should also be room for disagreements along the way," Frederiksen said. "I hope we can stop this discussion soon."
As Inslee exits, Sanders puts new focus on fighting climate change
Senator Bernie Sanders on Thursday will release a $16.3 trillion blueprint to fight climate change, the latest and most expensive proposal from the field of Democratic presidential candidates aimed at reining in planet-warming greenhouse gases.
… Mr. Sanders was an early supporter of the Green New Deal, an ambitious but nonbinding congressional plan for tackling global warming and economic inequality. He is bestowing that same name upon his new plan, which calls for the United States to eliminate fossil fuel use by 2050.
It declares climate change a national emergency; envisions building new solar, wind and geothermal power sources across the country; and commits $200 billion to help poor nations cope with climate change.
Mr. Sanders said in an interview Wednesday night that his proposal would "pay for itself" over 15 years and create 20 million jobs in the process.
vision 2020
Ranking the Most Influential Democratic Donors in the 2020 Race
electoral college
No, Joni Ernst, Iowans Don't Need the Electoral College to Influence Presidents
vision 2020
Governor Jay Inslee on Why He's Dropping Out of the 2020 White House Race
donald trump
The Wildest Comments From Trump's Chaotic Wednesday
Some smart proposals from the Parkland kids
The student activists who crashed the political arena after the mass shooting last year at their high school in Parkland, Fla., are throwing their weight behind a new and ambitious gun-control program that they hope will set the tone for the debate following the most recent mass shootings and headed into the 2020 elections.
The Peace Plan would create a national licensing and gun registry, long a nonstarter with gun rights advocates; ban assault weapons and high-capacity magazines; implement a mandatory gun buyback program; and install a "national director of gun violence prevention" who would report directly to the president and coordinate the federal response to what advocates call a national public health emergency.
It would dramatically increase restrictions around owning guns in ways sure to spark fierce blowback, including raising the age to 21 from 18 for those who want to buy guns. It calls for a "multi-step" gun licensing system, overseen by a federal agency, that would include in-person interviews and a 10-day wait before gun purchases are approved. The license would be renewed annually.
About those strong jobs reports from last year…
Employers added a half-million fewer jobs in 2018 and early 2019 than previously reported, the Labor Department said Wednesday.
The revisions, which are preliminary, are part of an annual process in which survey-based estimates are brought into alignment with more definitive data from state unemployment insurance records.
Wednesday's revision covers the period through March; final updates, which will include the rest of 2019, will be released in February.
The revisions don't change the overall picture of a healthy job market. But they do mean that 2018, which had ranked among the strongest years of job growth in the decade-long recovery, was weaker than previously believed. After the revision, hiring probably averaged under 200,000 jobs per month last year, down from the 223,000 initially reported and only modestly better than the 179,000 monthly jobs added in 2017.
explainer
Is Donald Trump the Antichrist, the Beast, the Son of Perdition?
Another arrest of a man planning a mass shooting. This time targeting coworkers and guests at a Marriott in Long Beach, CA. Tip from a coworker led police to a home in Huntington Beach where they found multiple high-powered weapons, tactical gear, & high capacity magazines.
—
@ShimonPro
religion
When Trump Talks About Jews, He's Really Talking to Evangelical Christians
Some of the things Trump made false claims about last week:
Google
Greenland
Biden
Wind
The WTO
The time of day
The election
Voter fraud
China
Mortgage rates
Being Michigan Man of the Year
The crowd outside
His 1980s rink renovation
Mental institutions
https://t.co/YjXvOGHs2m
—
@ddale8
Oh good, we're back on this again
President Trump on Wednesday said his administration is once again seriously considering an executive order to end birthright citizenship months after several lawmakers cast doubt on his ability to take such action.
"We're looking at that very seriously," Trump told reporters as he left the White House for Kentucky. "Birthright citizenship, where you have a baby on our land — walk over the border, have a baby, congratulations, the baby's now a U.S. citizen."
"We are looking at birthright citizenship very seriously," he added. "It's, frankly, ridiculous."
islamophobia
Trump's Tweets Prove GOP Attacks on Omar, Tlaib Were Always About Islamophobia
social media
Why Celebrities Fall for the 'New Instagram Rule' Hoax
climate change
The Amazon Rainforest Is on Fire
Denmark's PM is the latest woman to earn Trump's "nasty" label
Trump says the prime minister of Denmark was "nasty" and "inappropriate" by publicly rejecting his unsolicited proposal to buy Greenland in the way she did. He says she could've just said no, and he's not going to let her talk to him that way.
—
@ddale8
immigration
Trump Demands Right to Detain Migrant Children Indefinitely
The Trump administration wants to indefinitely hold migrant families
It's official: Kevin McAleenan, acting secretary of homeland security, just announced that the Trump administration now will use a new immigration rule that would allow it to detain immigrant families who cross the border illegally indefinitely, replacing the Flores settlement.
McAleenan is stressing that the new rule allows families to remain together. But it must also be stressed that children, including infants and toddlers, will now be held indefinitely in detention centers that have been flagged for dangerous conditions for adults.
—
@Yamiche
Bernie showing some strength in a new poll
New national polling of the Democrats' primary elections in 2020 from The Economist and YouGov:

Share among Democratic primary voters (change vs last month):
Biden: 22% (-3)
Sanders: 19 ( 6)
Warren: 17 (-1)
Harris: 8 (-1)
Buttigieg: 7 (1)
O'Rourke: 3 (1)
Gabbard: 2 (0)
—
@gelliottmorris
The actual news from Greenland
 This is where Earth's refrigerator door is left open, where glaciers dwindle and seas begin to rise.
New York University air and ocean scientist David Holland, who is tracking what's happening in Greenland from both above and below, calls it "the end of the planet." He is referring to geography more than the future. Yet in many ways this place is where the planet's warmer and watery future is being written.
It is so warm here, just inside the Arctic Circle, that on an August day, coats are left on the ground and Holland and colleagues work on the watery melting ice without gloves. In one of the closest towns, Kulusuk, the morning temperature reached a shirtsleeve 52 degrees Fahrenheit (10.7 degrees Celsius).
politics
Denmark's Leaders Mock Trump and His Dream of Buying Greenland
ABC summoning some moral courage here
Latest cast of Dancing with the Stars just announced, and it includes….
@seanspicer
, former White House press secretary. He's on
@GMA
now. 👀
—
@HallieJackson
the national interest
Trump Says Jews Should Love Him Because He's Almost Literally Jesus
racism
Racism Has Thwarted American Ideals From the Beginning, and Still Does
Trump escalates attacks on American Jews, compares himself to Jesus
"Thank you to Wayne Allyn Root for the very nice words. "President Trump is the greatest President for Jews and for Israel in the history of the world, not just America, he is the best President for Israel in the history of the world…and the Jewish people in Israel love him….
….like he's the King of Israel. They love him like he is the second coming of God…But American Jews don't know him or like him. They don't even know what they're doing or saying anymore. It makes no sense! But that's OK, if he keeps doing what he's doing, he's good for…..
—@realdonaldtrump
Trump's Denmark-trip cancellation is embarrassing for Americans, confounding for Danes
Overnight reaction from Danish leaders:
"An insult"
"Lacks even basic diplomatic skills"
"Please show more respect"
"An insult to the royal house"
"A spoiled child"
"Trump lives on another planet"
"Quite absurd"
https://t.co/gpX3evb5qD
—
@PhilipRucker