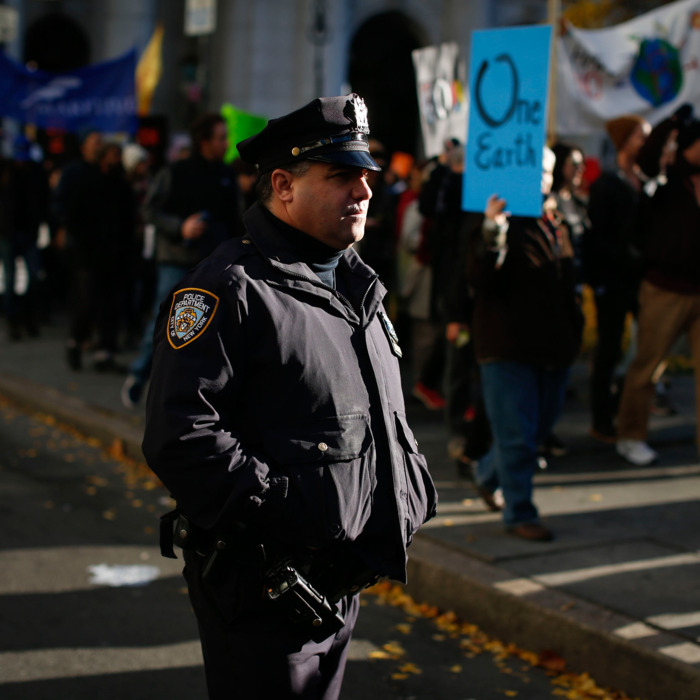 A NYPD officer stands guard as people take part in a global climate march on November 29.
THE FEED
Mark Kelly's fight for John McCain's former Senate seat just got a little easier
Rep. Ruben Gallego will not run for the U.S. Senate in 2020's special election, he told The Arizona Republic on Monday, clearing the path for retired astronaut Mark Kelly to take on incumbent Republican Sen. Martha McSally without a potentially bruising primary fight. 
Gallego's decision will disappoint progressive Democrats, who represent the left flank of the party and are especially hostile toward President Donald Trump.
"I don't want to engage in a bitter primary all the way until the general election, and then turn around and try to run, whether it's me or Kelly, against McSally in a year when the Democrats need to win the Senate seat and take the state," Gallego told The Republic. "It's just not in the best interest of the state or the Democratic Party to be engaging in that. … If Republicans are excited to see a spirited and nasty primary, they're going to have to look somewhere else because I'm not going to take part in that."
politics
Puerto Rico's Distress Shows Trump's Contempt for Poor People of Color
After months on the backburner, the Steele dossier re-enters the political forefront
Sen. Lindsey Graham, who spent the weekend with Trump in Florida, said his committee will investigate the actions of the Justice Department in the Russia investigation, including the FBI's use of a dossier compiled by British spy Christopher Steele.
Graham spoke Monday after Attorney General William Barr reported to Congress on Mueller's findings. Barr said Mueller found no evidence that Trump or his associates conspired with Russia. Mueller did not make a determination on whether Trump obstructed justice.
Six House Committee Chairmen have requested that Barr release the full Mueller report to Congress by April 2
Your four-page summary of the Special Counsel's review is not sufficient for Congress, as a coequal branch of government, to perform this critical work. The release of the full report and the underlying evidence and documents is urgently needed by our committees to perform their duties under the Constitution."
—Reps. Jerrold Nadler, Elijah Cummings, Adam Schiff, Maxine Waters, Richard Neal, and Eliot Engel
nazis
U.S. Rep. Mo Brooks Compares Democrats, Media to Hitler
The college scandals continue to rack up in 2019
Duke University has agreed to pay the U.S. government $112.5 million to settle allegations that it knowingly falsified or fabricated data research in 30 grants to the National Institutes of Health and the Environmental Protection Agency between 2006 and 2018, the Department of Justice announced Monday.
The falsified grants caused the NIH and the EPA to pay millions of dollars in funding that they otherwise would not have. "Taxpayers expect and deserve that federal grant dollars will be used efficiently and honestly," the Justice Department said. "Individuals and institutions that receive research funding from the federal government must be scrupulous in conducting research for the common good and rigorous in rooting out fraud."
michael avenatti
The 9 Wildest Details From the Criminal Complaints Against Michael Avenatti
Though Mitch McConnell has blocked efforts to release the full Mueller report, some House Republicans appear to be on board
Parliament has taken over the Brexit negotiations, issuing yet another reprimand to Theresa May
Britain's Parliament grabbed control Monday of the government's efforts to leave the European Union, challenging the country's political traditions and inflicting on Prime Minister Theresa May a rebuke not suffered by any recent predecessor.
Parliament passed an amendment giving itself the power to vote on alternatives to the government's Brexit plan. Its attempt to take control of the process came as Mrs. May prepared for a last-ditch effort to persuade lawmakers to support her withdrawal plan, which has already been rejected twice by huge margins.
Parliament's attempt to take control was led by Oliver Letwin, a veteran Conservative lawmaker, and is driven largely by fear of leaving without an agreement, a rupture that could leave ports jammed and cause huge economic dislocation. A "no deal" Brexit remains the default option if the deadlock in Britain continues, and the risks of it happening by accident are increasing.
mueller time
Intelligencer Chat: Will We Ever See the Full Mueller Report?
Though the president, for once, supports transparency in the Mueller report, Mitch McConnell says otherwise
JUST NOW: McConnell blocks Schumer measure calling for Mueller report to be made public
—
@StevenTDennis
impeachment
The Impeachment Option Grows Dim
Now here's where we could use some leaks
Breaking:
@KenDilanianNBC
reports that the FBI is prepared to brief the Gang of 8 on the findings of Mueller's counterintelligence investigation into Trump (i.e. whether the president is under the influence of a foreign power)
—
@JuliaEAinsley
identity politics
The GOP's Cynical New Identity-Politics Play
Mayor Pete might have some major momentum
South Bend, Ind., Mayor Pete Buttigieg (D) surged into third place in a poll of the Iowa caucus released Sunday.
Eleven percent of likely Democratic Iowa caucusgoers surveyed by Emerson Polling said they would pick Buttigieg to be their 2020 presidential nominee.
Overall, Buttigieg placed third behind Former Vice President Joe Biden, at 25 percent, and Sen. Bernie Sanders (I-Vt.), at 24 percent.
Buttigieg, who has formed an exploratory committee but has not officially declared, was polling at 0 percent in Emerson's January survey of Iowa, which shows his recognition and support have grown significantly in the last few months.
His performance in Sunday's Emerson poll was boosted by placing second in the 18-to-29-year-old demographic, with 22 percent. Sanders led that category with 44 percent.
marijuana legalization
Excellent Weed Legalization Bill Dies in New Jersey Senate
cityscape
The De Blasio Climate Plan Is Big, Ambitious, and Very Vague
The federal government continues to fail Puerto Rico
The federal government provided additional food-stamp aid to Puerto Rico after the hurricane, but Congress missed the deadline for reauthorization in March as it focused on other issues before leaving for a week-long recess. Federal lawmakers have also been stalled by the Trump administration, which has derided the extra aid as unnecessary.
Now, about 43 percent of Puerto Rico's residents are grappling with a sudden cut to a benefit they rely on for groceries and other essentials.
Puerto Rico will again need the federal government's help to stave off drastic cuts to Medicaid, the health-care program for the poor and disabled, as well as for the disbursement of billions in hurricane relief aid that has not yet been turned over to the island.
The island would not need Congress to step in to fund its food-stamp and Medicaid programs if it were a state. For states, the federal government has committed to funding those programs' needs, whatever the cost and without needing to take a vote. But Puerto Rico instead funds its programs through a block grant from the federal government, which needs to be regularly renewed, and also gives food-stamp benefits about 40 percent smaller than those of states.
basta!
Michael Avenatti Flew Too Close to the Sun, Now Faces Federal Charges
Stormy Daniels has some words for Avenatti
Big news if you hate New York City traffic
In British politics right now, there are no winners
New Jersey once seemed well on its way to legalizing weed. Not anymore.
A monthslong effort to legalize marijuana in New Jersey collapsed on Monday after Democrats were unable to muster enough support for the measure, rejecting a central campaign pledge from Gov. Philip D. Murphy and leaving the future of the legalization movement in doubt.
The failure in the legislature marks one of the biggest setbacks for Mr. Murphy, who despite having full Democratic control in the State Senate and the assembly, had faced constant party infighting and had struggled to bend the legislature to his progressive agenda.
But the legalization effort had fractured the Democratic Party with some African-American lawmakers arguing that marijuana would be a public health menace to their communities.
mueller time
Will the Mueller Fizzle Help Elect Trump in 2020?
Now he'll never be president
JUST IN: Federal prosecutors announce charges against
@MichaelAvenatti
, alleging he tried to extort Nike, threatening to release damaging about the company, if Nike didn't agree to pay millions to him and a client.
—
@stevenportnoy
bipartisanship
House Republicans Accuse Dems of Sabotaging Bipartisan Bills
Bronx Congressman Jose Serrano has Parkinson's, won't seek reelection
Although this disease has not affected my work in Congress, over the last few months I've come to the realization that Parkinson's will eventually take a toll, and that I cannot predict its rate of advancement.
Because of this uncertainty, I do not intend to seek re-election in 2020. I do intend to serve the remainder of my term in the 116th Congress.
—
Rep. Jose Serrano
An early morning rocket strike in central Israel wounded seven, and now…
We have just started striking Hamas targets throughout the Gaza Strip.
—
@IDF