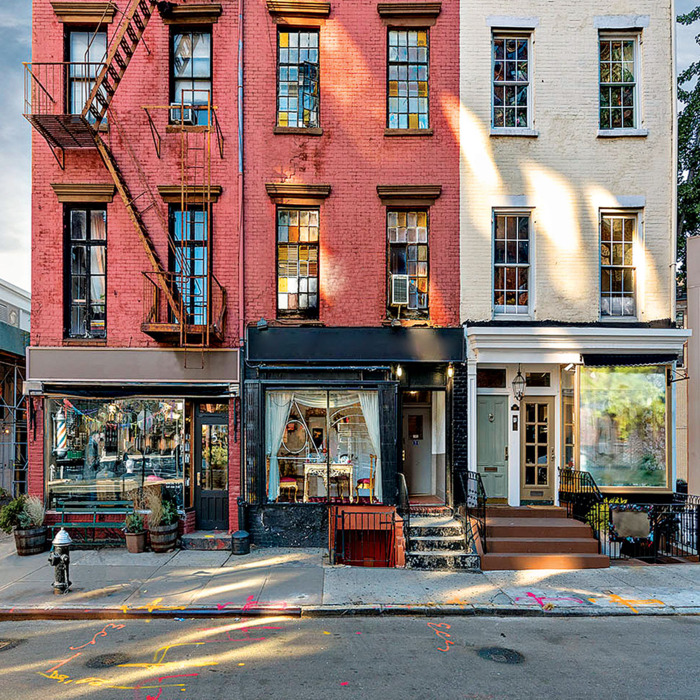 The total number of retail businesses climbed from 27,735 in 2003 to 32,389 a decade later — an increase of 16 percent.
Photo: Marc Yankus
THE FEED
world view
Trump's Selfish Foreign Policy Doesn't Really Put America First
The only constituent who attended Steve King's town hall on Saturday was a 20-year-old Democrat nursing a hangover
[University of Northern Iowa student Jessica Birch] had planned on just sitting in the back of the room. When King entered, he walked back to her to greet her, then she moved herself up to a closer row as he approached the podium.
"It was very awkward, it was a very weird thing," Birch explained. "Part of me wanted to leave, but it would be rude to leave, and the Midwestern part of me couldn't do that. I feel bad for him a bit. But then part of me was really, really angry because other Democrats didn't show up. I kind of let stuff he said slide, on stuff like abortion and health care, because I don't want to get in an argument with him. I already know you're wrong. Let's talk about things I actually care about." …
In telling her friends last night about her experience with King, others suggested Birch should have yelled at him.
"It's so easy to say that, being the only person in the room is different," Birch noted.
Once the hour-long forum was finished, King's staff encouraged her to get a photo with the congressman.
"I politely declined, mostly because I plan to run for office and I don't need a picture of Steve King and I shaking hands in the future," she said.
Biden is not winning the internet
More than 60 percent of the $13.2 million Biden has raised online came in the first week of his campaign, which launched in late April, according to a POLITICO analysis of data from the Democratic fundraising platform ActBlue. While other top candidates spiked early and then gradually raised more money online as the 2020 campaign has carried on, Biden's pattern is similar to O'Rourke, who roared into the race with millions raised in his first day but has trickled off since then, watching his standing in the polls erode as the people who flocked to his 2018 Texas Senate campaign stop mashing the "donate" button with every email.
Unlike O'Rourke, Biden has enjoyed a steady stream of high-dollar, in-person events with big donors to bolster his finances, putting him among the top Democratic fundraisers in 2020. But the online totals are a sign that Biden has not built enthusiastic grassroots support for his presidential campaign, despite his lead in the polls.
POLITICO's day-by-day review of presidential fundraising via ActBlue also shows that the former vice president didn't generate other types of spikes or breakout moments that other campaigns feasted on during the first half of 2019. That includes well-received debate performances, televised town hall appearances, or even announcing support for impeaching President Donald Trump — all of which drove fundraising for other Democratic campaigns early this year.
Amid President Donald Trump's trade war with China, nearly two-thirds of Americans say they support free trade with foreign countries, according to the latest national poll from NBC News and the Wall Street Journal.
That represents a new high in the NBC/WSJ survey on this question, and it's a 7-point increase from the last time it was asked in 2017. …
In the poll, 64 percent of Americans — including majorities of Democrats and Republicans — agree with the statement that free trade is good for America, because it opens up new markets, and the country can't avoid the fact of a global economy.
Just 27 percent believe free trade is bad, because it hurts manufacturing and other key industries, and there's no proof that more trade creates better jobs. The percentage of those favoring free trade is up 13 points from 2015 and 7 points from 2017, with Democrats and independents much more supportive than they were four years ago.
Political scientist Brendan Nyhan comments:
As with immigration, Trump has driven support for free trade to new highs. The idea that he has some magical power over public opinion on these issues is just wrong.
A big statement from a big crowd
An estimated 1.7 million people in Hong Kong – a quarter of the population – defied police orders to stage a peaceful march after a rally in a downtown park, after two months of increasingly violent clashes that have prompted severe warnings from Beijing and failed to win concessions from the city's government.
Huge crowds filled Victoria Park on Sunday afternoon and spilled on to nearby streets, forcing police to block traffic in the area. Torrential rain came down an hour into the rally, turning the park into a sea of umbrellas. At the same time, protesters walked towards Central, the heart of Hong Kong's business district, and surrounded government headquarters.
Police had turned down a plan for Sunday's march submitted by the Civil Human Rights Front group and gave permission only for a rally in the park. Those defying the ban risked being charged with unlawful assembly, which can lead to up to five years in prison. …
Observers saw Sunday's rally, the largest in weeks, as a test of the movement's momentum and public support as tensions between police and protesters have escalated.
Hundreds of thousands (at least) hit the streets in Hong Kong
Photo: Protesters take part in the 11th consecutive week of demonstrations on August 18, 2019 in Hong Kong, China. (Photo by Anthony Kwan/Getty Images)
One of Trump's "very fine people"
James Reardon Jr., 20, has been charged with telecommunications harassment and aggravated menacing and is being held in the Mahoning County Jail on $250,000 bond with a court hearing planned for Monday morning.
On Friday, the FBI Violent Crimes Task Force raided Reardon's house and seized a cache of weapons and ammunition, including dozens of round of ammo, multiple semi-automatic weapons, a gas mask and bulletproof armor. …
Police initially became aware of Reardon on July 11 when he posted a video on Instagram of a man shooting a semi-automatic rifle with sirens and screams in the background. He tagged the Jewish Community Center of Youngstown in the post. …
Reardon is an avowed anti-Semite and white nationalist and attended the deadly "Unite the Right" rally in Charlottesville, Virginia, in 2017, according to WYTV. During the raid on his house on Friday police also discovered anti-Semitic and white nationalist propaganda.
religion
Do Conservative Evangelicals Like Trump Not Despite But for His Hatefulness?
racism
Two More Neo-Confederate School Names Challenged in Virginia
There's no mistaking the elaborate tattoos that cover Tyrone Lamont Allen's forehead and right cheek. But when Portland police suspected Allen was involved in four bank and credit union heists, and none of the tellers reported seeing tattoos on the face of the man who robbed them, police digitally altered Allen's mugshot.
They covered up every one of his tattoos using Photoshop. "I basically painted over the tattoos,'' police forensic criminalist Mark Weber testified. "Almost like applying electronic makeup.''
Police then presented the altered image of Allen with photos of five similar-looking men to the tellers for identification. They didn't tell anyone that they'd changed Allen's photo. Some of the tellers picked out Allen. …
Assistant U.S. Attorney Paul Maloney defended police actions. "The whole idea was to make Mr. Allen blend in – so his photo wouldn't stand out,'' he said. "These procedures were prudent. They were appropriate.''
Where discrediting foreign journalists is a budget item
[Clarissa Ward's CNN report] about Russian involvement in gold mining and other activities in the [Central African Republic] touched upon the role of Wagner, a private Russian military contractor believed to be backed by Yevgeny Prigozhin, a businessman with close ties to the Kremlin. Prigozhin was sanctioned by the U.S. for investing in organizations that tried to influence the 2016 American presidential election.
Ward's first reporting visit to the Central African Republic went smoothly, but troubles emerged when she returned. She and her team had problems getting accreditation, were accused of smuggling and of having fake documents.
During a visit to a gold mine, Ward said she noticed a vehicle with four white men following them. She approached the car and the men swiveled their heads to avoid being seen on camera and drove away. She saw the same vehicle later near her hotel. …
Four days before Ward's report was scheduled to run, a "teaser" video asking "what is the dirty secret behind CNN's trip to Africa?" appeared on RIA FAN, or Federal News Agency, a news portal believed to be linked to Prigozhin. Days later, the site posted a 15-minute video charging that Ward offered people in Africa $100 to say something bad about Russia. Ward denies offering any bribes.
No innocent migrant child left un-targeted
Some top aides to President Donald Trump sought for months for a way to give states the power to block undocumented immigrant children from enrolling in public schools – all part of the administration's efforts to stem illegal crossings at the southern U.S. border.
Trump senior adviser Stephen Miller had been a driving force behind the effort as early as 2017, pressing cabinet officials and members of the White House Domestic Policy Council repeatedly to devise a way to limit enrollment, according to several people familiar with the matter. The push was part of a menu of ideas on immigration that could be carried out without congressional approval.
Ultimately, they abandoned the idea after being told repeatedly that any such effort ran afoul of a 1982 Supreme Court case guaranteeing access to public schools. But the consideration of denying hundreds of thousands of children access to education illustrates the breadth of the White House's push to crack down on undocumented immigrants.
just asking questions
Obama's Deputy Interior Secretary on the Gutting of the Endangered Species Act
intelligencer chats
Should We Be Rooting for a Recession?
vision 2020
How Would An Economic Downturn Affect the 2020 Democratic Contest?
vision 2020
If This Fox News Poll Is Right, Trump Is a Goner
A fun wrinkle to weekend travel
DEVELOPING: JFK airport in NYC says Customs process "is experiencing a system shutdown nationwide."

US Customs and Border Patrol official says there is an issue with computer system; working to determine the cause.
—
@NBCNews
Official ruling on Epstein's cause of death is in
BREAKING: Medical examiner rules Jeffrey Epstein's death a suicide, says he hanged himself in his jail cell
—
@AP
guns
The NRA Is in Trouble, But Don't Count It Out Yet
vision 2020
Warren Unveils Plan to Help Native Americans
the national circus
Frank Rich: Trump Is Panicked That His Trade War Will Start a Recession
The Mooch would like some attention
I think the guy is losing it, mentally. He has declining mental faculties; he's becoming more petulant; he's becoming more impetuous. Okay, you see just by the way he's sweating, his body's not doing well. It's obviously not a guy that takes care of himself, right? 
—
Former White House Communications Director Anthony Scaramucci
Is America's seemingly endless war in Afghanistan about to end?
President Trump plans to meet Friday with Cabinet officials and other senior national security advisers to begin making arrangements for a step-by-step U.S. withdrawal from Afghanistan, a person familiar with the president's plan said.
A second U.S. official said Secretary of State Mike Pompeo is among Cabinet officials who will meet with Trump and Vice President Pence at Trump's New Jersey golf resort.
The session will review results of months of diplomatic outreach by Trump's special envoy, former U.S. Ambassador Zalmay Khalilzad, and military plans to begin a phased withdrawal of U.S. forces and end the longest U.S. war.