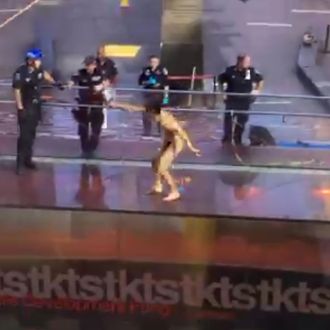 "Where are you Donald Trump?"
Times Square just enacted new regulations for performers, but officials most definitely didn't plan for this: A naked man climbed to the top of the TKTS booth on Thursday morning in Times Square. There, the 21-year-old nudist ranted about wanting to meet Donald Trump, broke out a few dance moves, and taunted and spit at cops before flinging himself down to the pavement below. (Warning: Again, this man is naked.)
The man, who was later identified as a 21-year-old model Krit McClean, surfaced in Times Square shortly before 8 a.m., where he removed his clothes and folded them in a pile, according to police. He scrambled up the TKTS structure and began shouting and pacing across the clear platform. "Donald Trump, where are you, Donald Trump, where the f– are you?!" he reportedly screamed. He also apparently demanded to meet with the GOP nominee, calling out, "No, no, no, no Trump." 
Cops rushed to the scene and closed off traffic in the area; helicopters hovered overhead. Officers assumed McClean was suicidal, and so they blew up an inflatable air bag in case he attempted to jump. Meanwhile, police negotiators tried to talk him down form his perch, but he taunted the officers, throwing air punches and even spitting in their direction.
The man apparently also broke out some dance moves, including the "the Worm." 
The Post noted some other highlights from his rant, including a declaration that he was a virgin and that he loved his mother. Per the tabloid: 
Although the handsome 20-something wore no clothes, he appeared to be a bit of a style maven, screaming out: "I love fashion, it's taught me so much!"
McClean eventually did jump or fall shortly after 9 a.m. — it's not quite clear at this point, but reports say it looked like he may have tried to run and lost his footing. He missed the blow-up pad by a few feet, hitting the pavement instead. The booth is about 15 feet off the ground, and the man apparently suffered minor injuries. "After he jumped, he kept screaming," a smoothie vendor told DNAinfo. "I think he was hurt. I saw some blood." He was covered up and taken to the hospital. Cops have not yet said if any drugs might have been involved. 
This post has been updated to include the identity of the man.