Cabana Bar

648 President St.




Brooklyn

,

NY

11215

Neighborhood:

Park Slope

Phone: 718-399-2161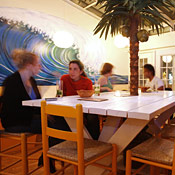 7
This venue is closed.
A new place from Spencer Rothschild, who helped open
Calle Ocho
and now owns
Barrio
on Park Slope's Seventh Avenue, located in a former garage that's gotten a tropical makeover via a glass-panel roof, French doors, a palm tree, and a 25-seat front patio. Partner-chef Adrian Leon, also of Barrio (before that he helped open Chicama and
Pipa
under Douglas Rodriguez and was chef at
Rosa Mexicano
), has created a menu of tapas-type dishes, arepas, oyster empanadas, and anticuchos — Peruvian skewers of homemade chorizo, chimichurri chicken, and the like. The tiki bar serves the usual mojitos and Pisco sours as well as a twelve-year-old rum martini and two-person "bonfire bowls" (proceed with caution).
Payment

American Express Diners Club Discover MasterCard Visa

Features

Bar Food Latin Brunch

Happy Hour

Daily drink specials Mondays Tuesdays Wednesdays Thursdays Fridays Saturdays Sundays